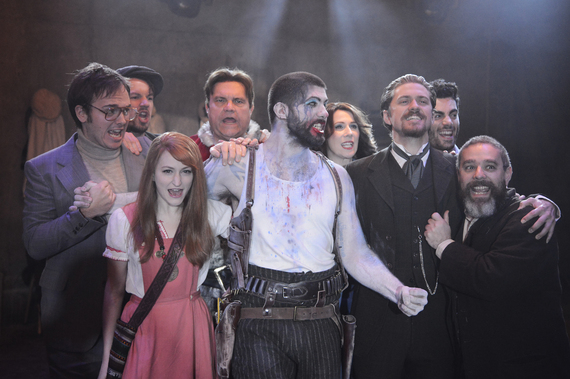 Wow, wow, wow! Assassins at Menier Chocolate Factory is absolutely stunning. With music and lyrics from Stephen Sondheim and a book from John Weidman, this is such a dark, riveting revival of a musical about those few who've tried to assassinate the President of the United States.
What connects these men and women? Why would someone pick up a gun and shoot to kill the President? These are questions that make this story such a fascinating examination of human motivations.
Yet this dark, clinical subject matter is contrasted with some terrific big-band numbers. Sondheim's score is at times ironically bright and provocative. Listening to a motley crew of would-be assassins from across the centuries singing "Everybody has a right to be happy, everybody has a right to their dreams" is quite startling, but gloriously so.
Jamie Lloyd is the man at the helm and his direction is dynamic. Any traditional stage has been stripped away and the auditorium at the Menier has been transformed into an abandoned and quite terrifyingly sinister fairground.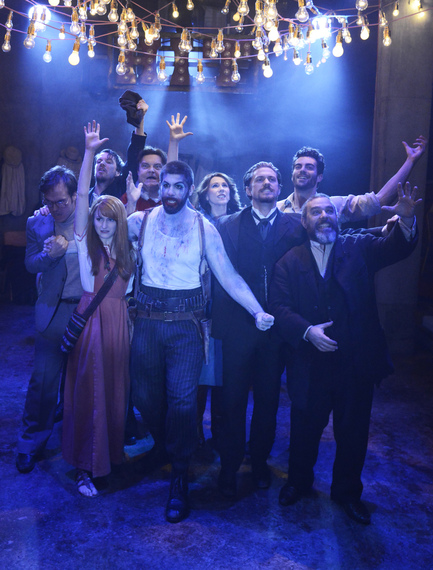 Soutra Gilmour collaborates with Jamie Lloyd again and her faded fairground set design is eerie and evocative. Large clown heads decapitated from their position above carousel rides lie fallen across the stage floor whilst above, fairground lights and illuminated signs flash up in the darkness.
The play starts off with the first of them all – John Wilkes Booth (Aaron Tveit) and his assassination of Lincoln. John weighs it up, he takes aim – and hits his mark. And from there, we are led through fascinating dramatizations and interrogations of motivations for each of the nine would-be murderers, ending with the most famous one of them all – Lee Harvey Oswald.
Remarkably, there is plenty of humour on show – Catherine Tate and Carly Bawden create a luscious pair as they scheme, rather ineffectively, to assassinate Ford, whilst Andy Nyman makes for a wonderfully eccentric and delusional Guiteau, the man who killed President Garfield. And Mike McShane is wonderful as Samuel Byck, the desperate man at the end of his rope trying to kill Nixon.
Yet this piece is shot through (no pun intended – or maybe it was) with some moments of real darkness. There was no happy ending for any of these assassins – whether they failed or succeeded – and the dramatized hangings and electrocutions are potent and dramatic.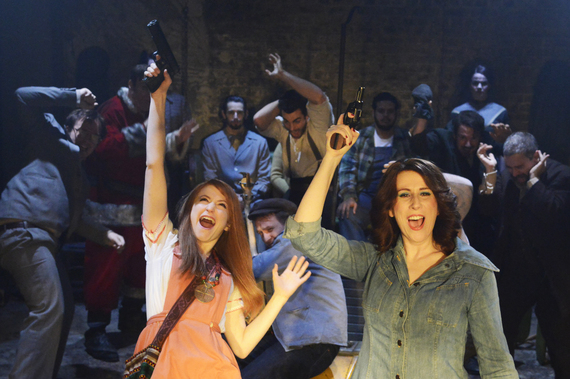 It is impossible to single out an individual actor in the cast for praise as all of them in this ensemble cast are superb, as is the live band. I don't normally like musicals but I just loved this.
Sondheim's music and lyrics are wonderful, and there's even a cheeky burst of Bernstein's "America" thrown in for good measure. Yet none of this comes at the expense of the book, of the story, which is fresh and fascinating. It's no surprise this musical won a heap of Tonys when it opened on Broadway – but this is a fine revival.
Sadly I think there are only day seats and returns left for this remarkable show. Such a shame as I would have desperately loved to have seen this again. Maybe, if we're lucky, a West End transfer beckons as this show just dazzles with its exciting and heady mix of darkness and light. Wonderful.
Menier Chocolate Factory, London to March 7, 2015
Image Credits:
All images are by Nobby Clark.
1. Harry Morrison (John Hinckley) David Roberts (Leon Czolgosz) Carly Bawden (Lynette 'Squeaky' Fromme) Mike McShane (Samuel Byck) Simon Lipkin (Proprietor) Catherine Tate (Sara Jane Moore) Aaron Tveit (John Wilkes Booth) Stewart Clarke (Giuseppe Zangara) Andy Nyman (Charles Guiteau)
2. Background: Harry Morrison (John Hinckley), David Roberts (Leon Czolgosz), Mike McShane (Samuel Byck), Catherine Tate (Sara Jane Moore), Stewart Clarke (Giuseppe Zangara). Foreground: Carly Bawden (Lynette 'Squeaky' Fromme), Simon Lipkin (Proprietor), Aaron Tveit (John Wilkes Booth), Andy Nyman (Charles Guiteau)
3. Carly Bawden (Lynette 'Squeaky' Fromme), Catherine Tate (Sara Jane Moore) by Nobby Clark