Adele is almost as famous for not speaking out about her personal life – or appearing in public to talk about anything much, for that matter – as she is for her clutch of Grammy Awards, Brit Awards, Oscar, record-breaking music sales and general, all-round awesomeness.
But the singer has made the uncustomary step of taking to Twitter to comment on her personal life – under the guise of wishing her many fans a Happy New Year. Exhibit A…
Just wanted to wish everyone happy holidays & all the best for 2015! PS Simon & I are still very much together, don't believe what you readx

— Adele (@OfficialAdele) December 28, 2014
This serene but unequivocal postscript comes after the weekend's papers were full of reports that Adele and her partner Simon Konecki, who is the father of her young son Angelo, were living apart.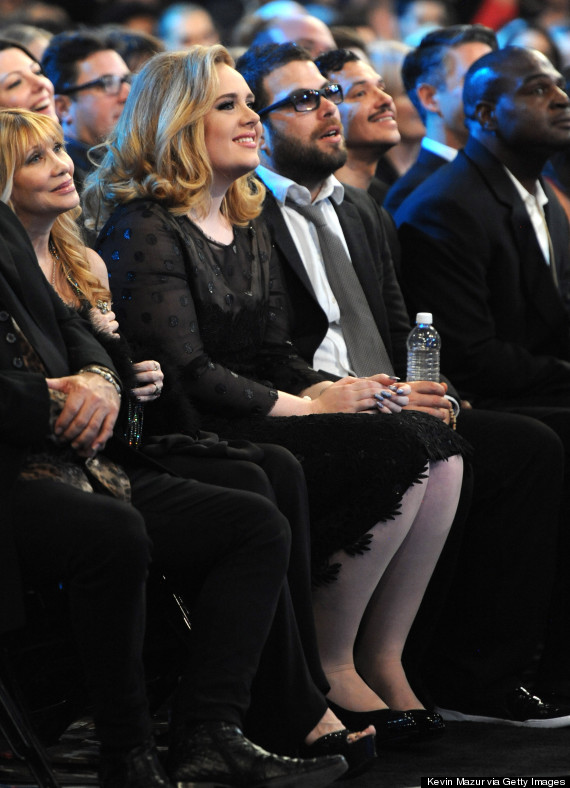 Adele with Simon at the 2012 Grammys
The claims were that Simon had moved out of the family home in Brighton to stay with a friend, while Adele was spending an increasing amount of time with her mother in London. However, she's evidently having none of it.
This is only the second time in her entire relationship with Simon that Adele has felt moved to comment on it. When they first got together nearly three years ago, there were reports that he was still married to someone else. This is what she had to say then…
This is the first and last time I will comment on the details of my relationship with Simon. Contrary to reports and headlines in the press today, Simon is divorced and has been for 4 years. Everyone in our lives separately and together wish us nothing but the best, and vice versa. These are the facts. Take care and see you all in February xx
Adele has barely been seen in the past couple of years, since collecting her Oscar for her theme to James Bond's 'Skyfall'. She failed to attend the Band Aid 30 recording last month, ignoring Bob Geldof's pleas and instead making a private donation to the Ebola-fighting appeal, and was absent again for Elton John's wedding to David Furnish, where her congratulatory note was signed from her, Simon and Angelo.
While this is obviously great news for Adele and her family, her fans will, of course, be in two minds as to what this means for her music. Adele was famously heartbroken when she produced her stunning album '21', and her contentment with family life has led her admirers to wonder whether she still has the fire in her to create tunes of the same personal quality. However, reports are that she is at work on a pop-inspired album, sending out feelers to other music-makers for ideas, even though in Phil Collins' case, he's still waiting to hear back, calling her "a slippery little fish".