Annie's adopted father in the new big screen version of the musical is a telecommunications mogul because that is the worst possible profession right now, according to the film's director.
Will Gluck tells HuffPostUK that, while the millionaire who takes Annie to his heart in the original film version was a war profiteer who made all his money selling arms to the United States, the director didn't think that would be a nice person to include in a film these days.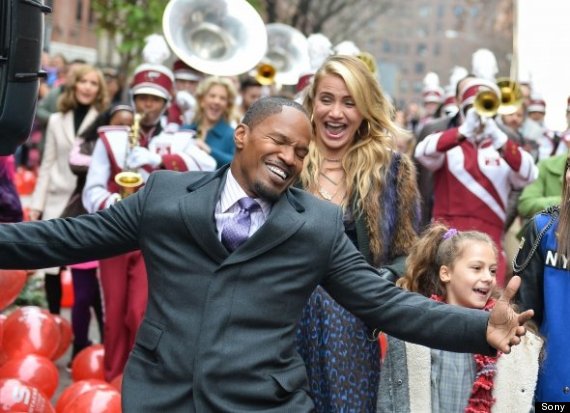 Jamie Foxx is one of the few actors talented enough to play the role, according to 'Annie' director Will Gluck
Instead, he says, he went for "the next worst thing" for the role played by Oscar winner Jamie Foxx – someone profiting from mobile phones.
"I think cell phones and the internet, no good can come of it. I think it's awful," explains Will.
"It steals people's lives away, it's all coloured with hatred and snark and negativity, and it's an awful place to live, and sadly a lot of people live on that.
"The fact that it brings a voice to people, and democratises places is unquestionably one of the best things of our generation, but you take that 26% away, and the other 74% is just awful."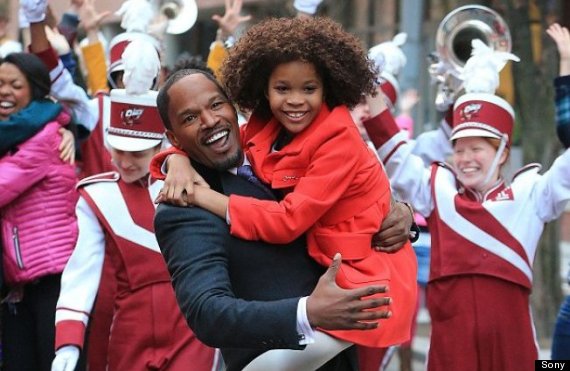 "We just wanted a 10-year-old who could act," says Will of his decision to cast an African-American
Will has weathered other controversy, it seems, from fans of the original musical, because of his decision to cast an African-American in the title role, rather than keeping Annie with her distinctive red hair.
"We were looking for a 10-year-old girl who could act, at exactly the same time a 10-year-old was nominated for an Academy award for acting," he explains, of the title role taken by Quvenzhané Wallis, who got her nod for her role in 'Beasts of the Southern Wild'.
"The narrative that's been written out there is strange to me. People think we had an agenda in casting Jamie Foxx, and again that was about who could sing and dance and act, and was funny, and is a movie star… the list is very short in Hollywood, and he's an Oscar winner.
"We cast it without thinking about it, and yet people think we have this agenda. When you're making a movie, you don't think about it at all, it's only afterwards you sit in rooms and defend why you did things, it's ridiculous."
Despite this, Will remains a firm fan of the story of orphan Annie and her determination to leave tyrannous Miss Hannigan behind and find her real family.
"The story of trying to find your family and place in life has been a told a thousand times. A lot of stories that start with a child without their parents, it's the easiest way to get across quickly a story about finding out where you belong.
I think very hard about what I want people to feel like when they leave the theatre, and in this movie, I want people to feel like that their family is who they came to the theatre with."
'Annie' is in UK cinemas now. Watch the trailer below…