If there is anything cuter than a baby orangutan, it must surely be a baby orangutan too scared to climb by itself.
To celebrate the premiere of 'Meet The Orangutans' on Animal Planet channel next week, we have this exclusive footage of baby Peanut being persuaded to overcome all fear, and do what apes do best.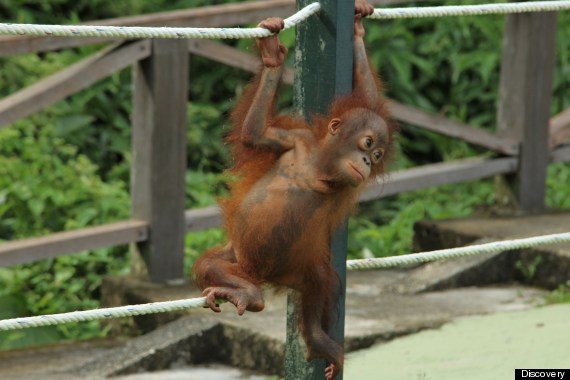 Baby Peanut isn't seemingly convinced by this whole climbing malarkey…
'Meet the Orangutans' gives a window into the extraordinary daily drama at the world's first-ever Orangutan Sanctuary at the Sepilok Centre in Malaysia, where over thirty orphaned ginger terrors rule the roost, and a dedicated team of vets, nurses, rangers and volunteers has just one aim: To return their endangered young charges to the wild.
But before they can do that, these little furry things need to complete up to seven years of Forest School – learning all the skills they would have learned from their mothers: What to eat; how to socialise; nest-building and, most crucially for an ape that spends 90% of its life in the trees, how to climb.
The UK Premiere of 'Meet The Orangutans' begins on Thursday 12 February, 8pm on Animal Planet (Sky 523). Watch our clip above and check out these little cuties in our exclusive pictures below…