It looks as though the BBC's heavy investment in family favourites for the festive period, with the network claiming the top FIVE spots in the TV ratings for Christmas Day.
READ ALSO:
Doctor Who Review: Festive, Sentimental And Spooky – And Clara's Fate Beautifully Determined…
Nice To See Him? Brucie Makes His Promised Return In 'Strictly' Christmas Special
'EastEnders' Recap: 'He's Your BROTHER!"
While HM The Queen's Christmas Day Message came out top overall – no doubt helped along by the hint of abdication rumours, never a serious prospect, and sort of exempt because her programme was broadcast across several channels – it was Brendan O'Connell's 'Mrs Brown's Boys' who topped the rest of the schedule, with an audience of 7.6million, proving the nation's favourite festive viewing for the second year in a row.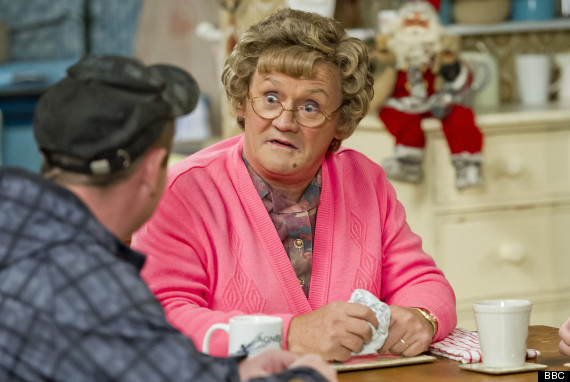 'Mrs Brown's Boys' has done it again at Christmas
Coming in second place was the drama of 'EastEnders', with the Carter family revelations pulling in 7.5million viewers at 9pm. Behind them, it was Brucie's return for a 'Strictly' special with a 7million audience at 5pm.
The BBC may have to give Miranda Hart a big pat on the back for her double contribution. 'Call the Midwife', in which she played a central part this time around, came in fourth with 6.8million, while her comic alter ego Miranda debated between two marriage proposals, and pulled in another 6.7million earlier on in the evening.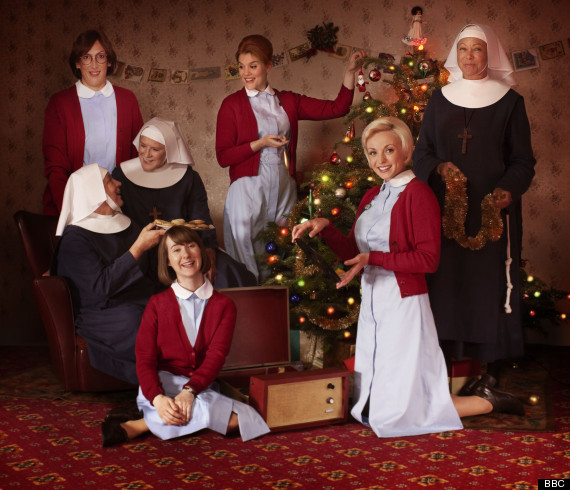 'Call the Midwife' was one of Miranda Hart's two spots in the Christmas Day top 10
The highest-rating ITV programme was 'Coronation Street' in sixth place, with 6.6million viewers. 'Doctor Who', 'Downton Abbey' and 'Emmerdale' filled out the top ten slots.
What did YOU enjoy the most on Christmas Day TV? Let us know below!