Michael Keaton admits he'd only be interested in making a sequel to 'Beetlejuice' if director Tim Burton comes on board again.
Michael, who has previously revealed he'd only be prepared to make a "perfect" sequel to the gothic fairytale hit film of 1988, tells HuffPostUK:
"It would have to be really good, otherwise don't mess, leave it alone," he ponders. "I would do it if was pretty good, because it was such fun, but it would have to have Tim involved somehow, either as producer or director. And he's really busy, as am I."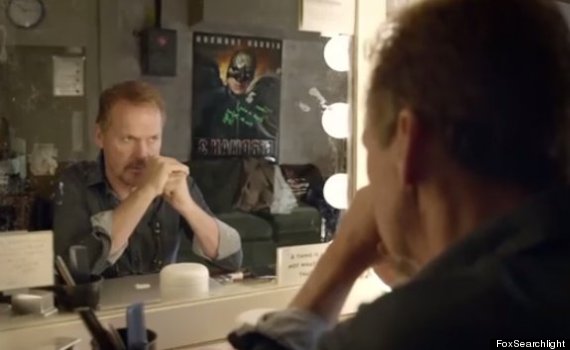 Michael Keaton has been Awards-tipped for his role in 'Birdman'
Tim Burton also directed Michael as Batman, something the actor looks back on with fondness, despite, it transpires, never seeing the latest trilogy starring Christian Bale as the caped crusader…
"That was a great gig, really fun," he offers. "I was fortunate to have it, but I haven't gotten round to it (seeing the later films).
"But you could ask me about a whole bunch of movies, and I probably haven't seen it. I kept saying to myself, I should go see one of those, because Christian Bale is such a great actor."
It's less likely than ever now, because Michael is a busy man himself, most recently in his pin-sharp leading turn in 'Birdman' for which he's already earned a Golden Globe nomination.
In this striking satire, Michael plays Riggan, an actor who's made his name and fortune as a big screen superhero (the 'Birdman' of the title), but, now consumed with creative vanity, is putting on a Broadway show, aided by the likes of Naomi Watts, Ed Norton and Andrea Riseborough, and much to the despair of his weary daughter played by Emma Stone.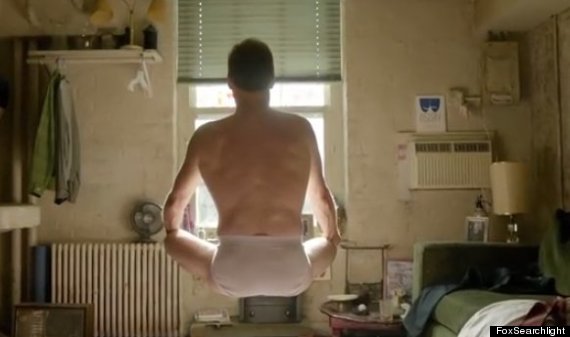 A man with a hairpiece and in his underpants – and Michael Keaton loved every minute
While Michael brushes off awards buzz with the dismissive smile of a pro – "This movie's really, really good, forget me, take me out of the equation" – as well as the well-trodden headline of his own glorious comeback – "It makes a nice story. You want people to see the story" – it's clear he's thrilled with the complex layers of the role, which required him to run clad only in his underpants through Times Square, as well as tussle with similarly unclothed Ed Norton.
"He looks good, he gets to be the handsome dude. My character isn't looking good," chuckles Michael, evidently at ease with the undoing of his character, who must also remove a hairpiece during the course of the film.
"Physically it's as unflattering as you can make a person look," he agrees, "and then emotionally it's unflattering. So I thought, why not?
"I like being stripped naked, emotionally. I like ripping it all down. It's what I'm supposed to do for a living. An architect would look at a particularly complex house, and think, 'let me make that.'"
Despite all the apocryphal tales of vanity and hubris to emerge from the Hollywood Hills over the years, Michael is adamant he hasn't based Riggan on anyone in particular. Has he even met that man in his career?
"Probably, although I couldn't point to him," he rubs his chin, thinking. "He's fairly extreme in his insecurity.
"I know a few actors who are very narcissistic, acting as though it's everything, and the only thing they're actually aware of.
"I don't really like talking about it that much, although I like to listen to other actors talking.
"I bumped into Liev Schreiber the other day and he jumped right to a technical point, there was no small talk. It was great, but I wasn't quite ready for it."
And, in a way that proves his point, we somehow get onto the subject of Kim Kardashian, for whom Michael Keaton offers a spirited defence from critics of her central position in our culture.
He muses: "You look in the newspaper and you think we just landed on a satellite travelling at 33,000 miles an hour, but Kim Kardashian's story is much larger. So you might despair, and think we're all done.
"But, if you believe in the free enterprise system, you can criticise Kim, but who are we to criticise when she does a thing? She somehow cashed in on her butt, and turned it into something. If you look at Wall Street, considered the respectable way of the division of capitalism, those guys are taking people's money in the most underhand way all the time. This girl's saying, 'this is my business, if you want to buy it.' She's as pure, as legitimate, as anybody if you want to put her on that scale."
You may well wonder how I managed to get onto the subject of KK's butt. It came about via our discussion over whether we should despair or delight in what people are now interested in, just one of the themes explored by 'Birdman'.
Michael's answer? "I choose to be optimistic, because…" he smiles… "it's just easier."
'Birdman' is in UK cinemas now. Watch the trailer below…