'Boyhood' may the film on everyone's lips now we're firmly into this year's Awards Season, but director Richard Linklater admits there was a time when he felt he had to prepare his young leading actor Ellar Coltrane for the fact that nobody might ever see their film, after 12 years of hard work.
READ ALSO:
Patricia Arquette Tells HuffPostUK: 'It's Pretty Brutal Watching Yourself Age On Screen'
Richard tells HuffPostUK:
"I was preparing Ellar mentally, for not expecting many people to ever see it.
"I was preparing him, don't think when this comes out… we'll have an indie run, maybe play a few festivals, maybe come out on DVD.
"I was preparing him for that, because I honestly didn't think there was a hook. Nothing much happens, a bunch of time comes by, but there's no pitch, no one-line pitch."
As it turns out, that fear has not been realised, with 'Boyhood' already collecting a clutch of awards for Richard, his leading lady Patricia Arquette, and the title now emerging as one of the favourites for this year's Best Picture Oscar.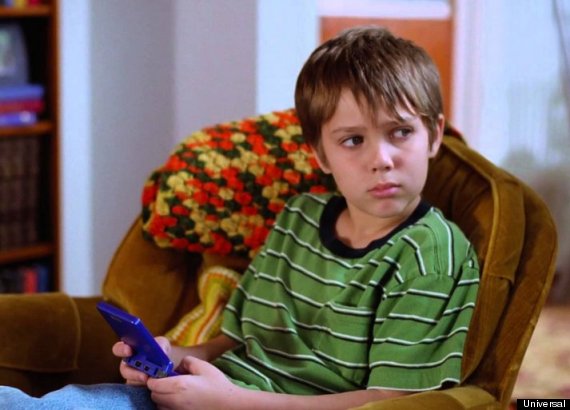 'Boyhood' tracks Mason (Ellar Coltrane) on his journey through the ages 6 to 18
'Boyhood' tells the simple story, in real time, of one boy, Mason, growing up – at the centre of an evolving family, including parents Olivia and Mason Sr (Patricia Arquette and Ethan Hawke), who separate but continue to play important roles in his life, and his sister Samantha, played by Richard's own daughter Lorelei.
It turns out Richard Linklater doesn't feel too fondly of his own boyhood, and was actually counting the days until he become an adult.
"I remember as a kid thinking 12th grade was so far away," he remembers. "I felt trapped, thinking, I've got 10 more years of this.
"I don't know if prison sentence is the right word but I didn't like school that much, and I remember thinking on the other side of that was freedom. I would be the person I wanted to be the other side of that."
One thing Richard is keen to address is that making the film in real time, over a bunch of weeks every year, despite what a cunning novelty trick it now appears, was never a gimmick, but truly the only form he could find to tell the story he wanted to tell.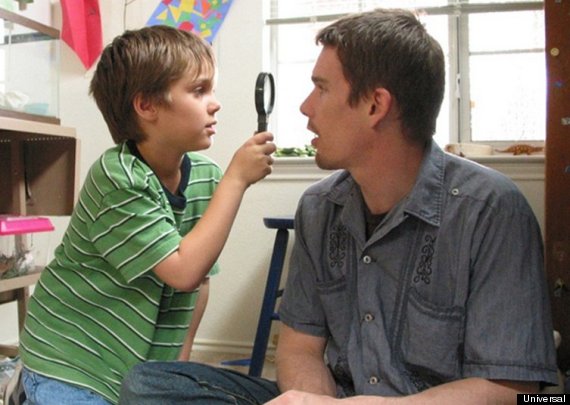 Ethan Hawke, right, plays Mason Sr in Richard Linklater's unique film
"I think a lot of people have a kid's movie in them, but I wanted to do one about growing up," is how he puts it.
"Once I started, the ideas were so dispersed over the years, that I'd given up, I thought you can't do that in movie, they're about one moment, or you jump in time, and suddenly it's someone else playing them.
"You can't age a kid a couple of years. So I needed this form to tell this story that I had never seen, which is actually very simple – time passing through these people's lives."
Richard's film has been compared to the monumental documentary series '7Up', where filmmaker Michael Apted catches up with his subjects every seven years and charts their unpredictable journeys through life.
"What's so fascinating about 7 Up is how bloody self-conscious they've become in recent years," he ponders. "It feels like a burden in their lives, but maybe it is.
"In my case, it's another example of longitudinal study, a little bit of information over a great number of years, which is fascinating, but ultimately mine's a fictional narrative.
It's always wistful when you get into the notion of how little time we have in this world, in the big picture, not that much."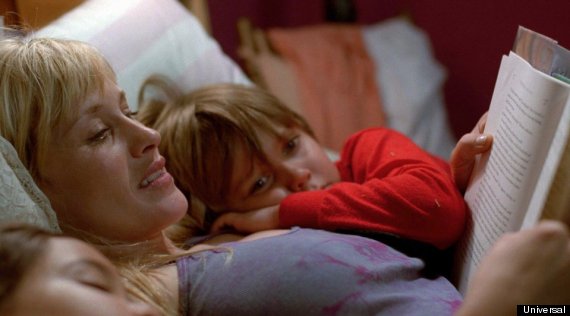 Patricia Arquette has admitted that it's "pretty brutal watching yourself age on screen"
Behind his main characters changing so gradually but significantly in front of our eyes, each year in 'Boyhood' has its own distinct tableau of clothes, colours, music and, in 2009, the unprecedented election campaign of one Barack Obama. By focusing on him, did Richard think he was definitely going to win? He laughs.
"We were making a period piece but we were shooting in the present, so we had to ask, how will this scene play 11 years from now – what's going to matter?
"Ok, there's an election going on. There's this guy Obama, even if he loses it'll work because there's this guy your dad is excited about.
"Even before you have politics yourself, I think you remember how other people felt, as a kid you just ate others, regurgitating what others are saying. Critical thinking emerges gradually and you see that in Mason's character."
Richard opens his arms wide.
"I had the outlines, I had the last shoot and the big stuff, but the little bits, the music, that was the thing I felt I was collaborating not only with my own cast, but with the world."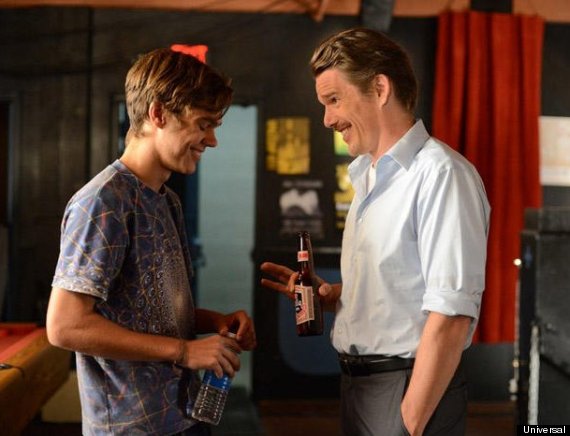 Growing up can be hard to do…
Until that final day of shooting came, a predictably poignant occasion for everyone involved, according to the director…
"The last thing we filmed is the last shot of the movie, and it was so incredibly moving to know we were done. It was intense. Not just the cast, but the crew, people who had put in a lot of years working on this, come back every year, seen the kids growing up, and everybody else, too.
"We all went through our 12 years, and I guess the message of the film is that… to be aware of it, be aware of your time, not necessarily enjoy it all, but to be aware of it."
Finally, he smiles. "But for all its ups and downs, this is an optimistic film, just because the people doing it thought it worthwhile to do for so long, that we would still be around in 12 years, and that it would still matter, that the world would still give a shit."
'Boyhood' is available on Blu-Ray/DVD now. Watch the feature below…