And, just like that, we were back on the beach – that same beach where we first met DI Hardy (David Tennant) and DS Miller (Olivia Colman), before they and the rest of the 'Broadchurch' community gripped the nation two years ago.
READ ALSO:
WATCH: Remind Yourself Of The Whole Of Broadchuch Series 1 – In Just Four Minutes!
'Broadchurch' Star Reveals Series 2 Will Have More Twists Than The First
And how different everything was. While the first series was a classic whodunnit, elevated by an intimate, complex script and impeccable production, this was all about what happened next. After the murderer was revealed. And the shattered community had to learn to cope.
This meant different things for everyone. While Hardy stared out to sea, cutting short journalists' questions and ignoring phone calls, Miller was on tireless traffic cop duty, taking it all out on the inhabitants of another county who had no idea of her tragic back-story.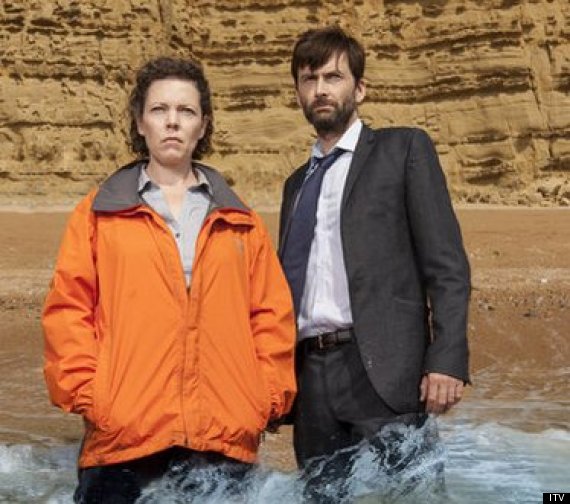 Olivia Colman, David Tennant back in action – and it's like they've never been away
Away from the courtroom, there was plenty to keep us busy. Hardy's brow was deeply furrowed as an old case came back to haunt him, which involved a comely former client leaning deeply on his narrow shoulders, and even Miller temporarily mopping her tears to say, "What???", before stepping into gear as his reluctant sidekick. Looks like SOME things don't change. Except this Claire wasn't a former girlfriend, she was in a DIY witness protection scheme, which looked like it just unfolded with the return of one Lee Ashworth – who, I hate to admit, looked terribly cool, courtesy of actor James D'Arcy's glowering gaze and quiff.
Meanwhile, back in Broadchurch, a couple of newcomers took us into fresh territory, with the arrivals of robust Marianne Jean-Baptiste and the far more enigmatic Charlotte Rampling heading towards an inevitable knuckle-crunching courtroom face-off. I wouldn't be taking bets on a victor at this point.
At least if that less than perfect husband of Miller's had pleaded guilty, everyone could pack up, go home and start to recover. Except he didn't. And so writer Chris Chibnall did what he promised, and delivered the first of what he claims will be more twists even than the first series. And Olivia Colman's lip started to tremble all the way to what will presumably be another BAFTA for her peerless craft of heightened naturalism.
But never mind all that, the vicar and the innkeeper. Since WHEN?!
'Broadchurch' continues next week on ITV. Pictures below…