Cami-Li's colourful choice of language may have landed 'Celebrity Big Brother' in trouble, after a record number of complaints have already been filed about the programme.
SEE MORE:
Perez Angers 'CBB' Housemates With 'Aids' Comparison
Who's Been Secretly Visiting Katie In The 'CBB' House?
Perez Compares 'CBB' 'Trauma' To His Dad's Death
During Monday night's live eviction, Cami stunned viewers – not to mention presenter Emma Willis – by repeatedly dropping bad language into the conversation, and even making a violent comment about her ex-housemate, Perez Hilton.
She claimed that, particularly earlier in the series: "For five hours a day I was like, 'Shall I just slit this motherf***er's throat?'"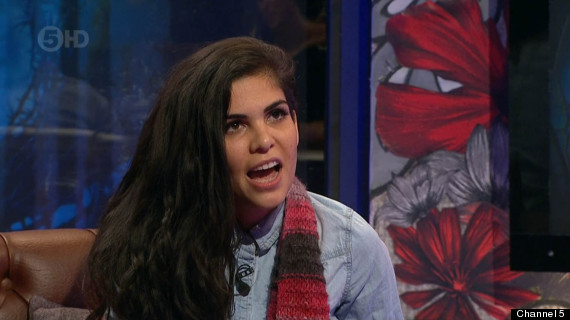 Cami-Li is interviewed by Emma Willis
It's now been reported that Ofcom have received the highest number of complaints of any 'CBB' incident over her use of language live on-air, while incidences of alleged racism and sexism in this year's series had already caused viewers to lodge over 2,500 complaints to the broadcasting watchdog.
An insider has even suggested to the Daily Star that this may have negative consequences for 'CBB' in the future, saying: "Drama makes great TV, but this series of 'Big Brother' has crossed the line."
Last summer's series of 'Big Brother' ended up being the most complained-about show of 2014, largely due to eventual-winner Helen Wood and her behaviour towards the other housemates.
Cami-Li, meanwhile, has backtracked slightly over her comments, admitting to The Sun that she wouldn't slit "parasite" Perez's throat… but only because "he's too tall".
Perez rubbed yet another of his housemates up the wrong way during Tuesday night's show, getting a rise out of the usually-serene Calum Best, who branded him a "w***stain" and a "c***" before telling him: "Everyone in this country hates you… because you act like a d***head."
Yikes.
Two housemates are leaving the 'CBB' residency on Wednesday night in a shock double-elimination, ahead of this Friday's live final.