When 'American Sniper' hit the silver screens across America, it received mixed reactions from stars and movie fans alike, despite breaking box office records.
By far the most alarming has been the response of some Twitter users who have suggested they were driven to thoughts of killing Arabs by it.
Clint Eastwood's latest film stars Bradley Cooper as Chris Kyle, the most lethal sniper in US history, as he fights four tours in Iraq.
The movie, which has been nominated for six Oscars, has been widely criticised for supposedly promoting Islamophobic propaganda, glamourising the invasion of Iraq and propagating racial violence.
Kyle's hatred for Arabs, who he called "savages", was actually toned down quite substantially for his book's journey through Hollywood and focused more on his battle with his own personal demons, but that didn't stop a large chunk of people completely missing the point.
The Huffington Post UK has chosen to blur out some of the language contained within these tweets.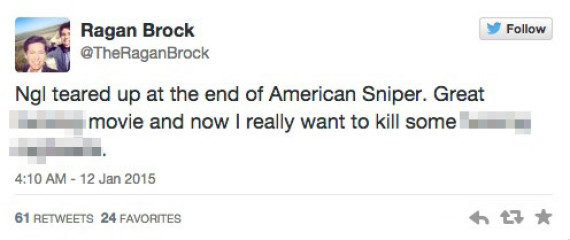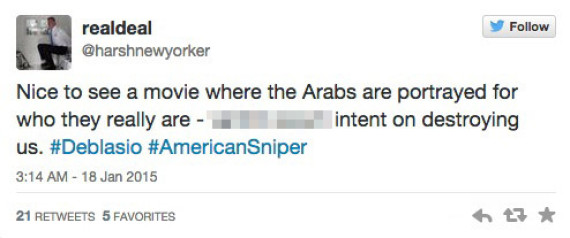 Just watched #AmericanSniper. Makes me want to go shoot something. Remember #ChrisKyle

— Chris Molina (@cypher23) January 19, 2015
SEE ALSO:
'American Sniper' Star Bradley Cooper Made Chris Kyle's Widow Cry
'American Sniper' has been panned by some, with stars such as Seth Rogen and Michael Moore speaking out against the biopic.
My uncle killed by sniper in WW2. We were taught snipers were cowards. Will shoot u in the back. Snipers aren't heroes. And invaders r worse

— Michael Moore (@MMFlint) January 18, 2015
American Sniper kind of reminds me of the movie that's showing in the third act of Inglorious Basterds.

— Seth Rogen (@Sethrogen) January 18, 2015
Rogen refers to 'Stolz der Nation', a fictional Nazi propaganda film from Quentin Tarantino's 'Inglourious Basterds', in which a German sniper picks off 200 Allied soldiers single-handedly.
'American Sniper' broke the all-time record for January box office takings, pulling in over $90m (£59m), and continues to ride at the top of the movie charts.