Depression has been responsible for my darkest days. It feels like you're living in a confined space with very little in it. It depresses everything within you, and you lose the ability to have emotions of any kind, to feel love or affection. The colour disappears from your life entirely.
That's what it feels like for me, anyway. And I have tried to portray this experience in my short film, Black Eyed Susan. It's not just about what you feel within yourself, it's how you perceive your surroundings too. Which is why your surroundings are so important to your wellbeing.
Anyone who has seen the film will notice the stark backdrop. I worked closely with director, Nick Rowntree, to bring this to life – although 'life' is possibly a strange word to use in this context, as nothing feels very 'alive' during a depressive episode.
We open the film with friends and laughter, surrounded by sunshine, set within a garden where everything is alive. This represents me. The person I really am and the life I lead when I am well. But once depression rears its ugly head and leads me into another episode, everything around me changes dramatically.
Life becomes dark, stark and empty. As if there is a heavy cloud hanging over everything. And this is what is represented throughout the film through the use of drab shades of grey, empty rooms and very little light.
Now I'm not suggesting that by living in light, open spaces with colour and comfort that you can protect yourself from depression. However, your surroundings do play a part in your wellbeing, and that is why I am careful to style my own home in a way that promotes health and happiness for me and my family.
For me, that's not about having the tidiest house or clean, minimal lines. I like a relaxed home, where you don't have to stand on ceremony. I do like a bit of clutter, but I also like my home to be clean. I like my house to be a home.
Everyone has personal taste and different things make people feel well and happy. I enjoy colour – I particularly love cornflower blue. It makes me feel calm and relaxed and it triggers happy childhood memories, as it was the colour that I had in my room as a small child. That is why your surroundings are so personal.
I'm an ambassador for Home Group – a national charity and one of the UK's largest providers of houses and supported housing. What has struck me when visiting Home Group's services – particularly their mental health services – is the freedom that their clients have when it comes to decorating their own space. In one room, you might have cushions and warm colours and books everywhere. In another, it might be cool and fairly minimal. Because everyone is unique and everyone needs to recover from mental illness in their own unique way. And your surroundings play a part in this.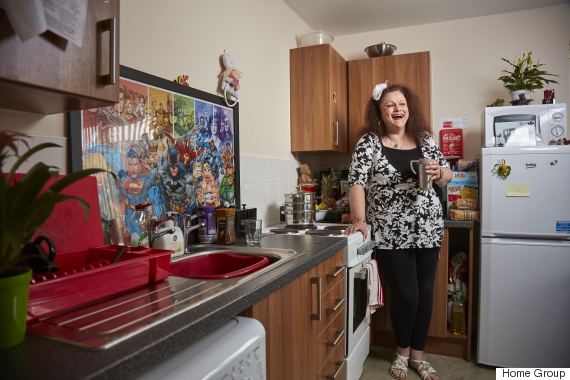 A Home Group client in their own home

Imagine the old, stereotyped images of care homes. Where people had little personal space, mealtimes were at the same time each day, somebody chose the food, the colour scheme, the background music. Today, supported living for people with mental health conditions is very different. Social spaces are important, and still play a big role. But what is more important in someone's recovery, and in their independence, is having a space they can make their own.
It's not just your mood it changes, but also your behaviour – and both impact on one another. For example, last year, I met one lady who was reunited with her sons when she moved into a Home Group service. After years of not having her own space and kitchen, she was once again able to cook family meals for her sons. In her own personal space. A slice of normal family life.
I feel incredibly lucky to have my own home, my own place of solace. Recovering from depression is about so much more than taking medication. That's just the start. Who you spend time with, where you relax, your physical health and your home environment all contribute to your recovery and wellbeing.
— This feed and its contents are the property of The Huffington Post UK, and use is subject to our terms. It may be used for personal consumption, but may not be distributed on a website.