Russell T Davies has criticised British TV drama for their depiction of gay characters, complaining that their sexuality is always used as a plot device.
With his brand new series 'Cucumber' about a gay, middle-aged couple debuting on Channel 4 this evening, Russell tells HuffPostUK:
"The bedrock of soaps has been magnificent but, if you remove the soaps, gay people in drama always seem to be driving the plot, whether it's the secret of their gayness, or their great, big coming out, it's never just incidental."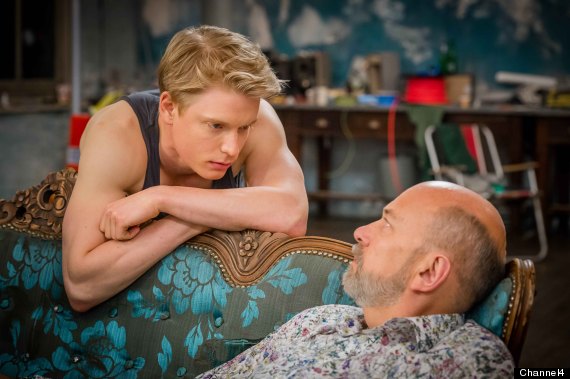 Freddie Fox and Vincent Franklin are two of the stars in Russell T Davies' 'Cucumber'
This isn't an accusation you could throw at the latest offering from Russell, who previously brought us 'Queer as Folk', rebooted 'Doctor Who' and turned David Tennant into a cheeky, modernistic Casanova.
While 'Cucumber' is, at first look, a simple, contemporary drama about a frustrated couple, Russell has once again thrown away the rule book, by making it about Henry and Lance, looking for sexual adventure as they face their middle age.
Meanwhile, 'Banana' is a series on E4 concentrating on 'Cucumber's periphery characters. And, just in case Russell got bored, 'Tofu' is a factual series about sex, based online.
And yes, if you're thinking there's a euphemism in there, you'd be right. Writer Russell T Davies calls 'Cucumber' "hard in many ways, including a hard stare at real life".
But, between the sniggers, Russell is passionate about painting a realistic portrait of gay men in the 21st century, to help us all understand "why men do the things they do".
Russell T is a great giggler, but there's no mistaking the passion, or the scale of his intent.
"I don't want to get on my soapbox, it's a serious pursuit, but it won't do any good if the show isn't entertaining.
"My hope is viewers will have a good time as well as learn."
These ideas have been simmering inside Russell for over a decade, a time during which, as he describes it, he was "delightfully sidetracked by Doctor Who. So I'm a bit late coming to the party".
In that time, he acknowledges, the gay landscape has shifted, up to and including society's embrace of gay marriage. Russell says now in wonder, "We grew older. The world grew and changed and expanded.
"Other people have been fighting that huge battle for equality, that story's written.
"Now it's time to fine out who we really are – and catch up on the rest of the world by a few thousand years."
During his time on Doctor Who, Russell also presided over a fantastical empire of 'Torchwood' and 'The Sarah Jane Adventures' so the multi-layered creativity of 'Cucumber', 'Banana' and 'Tofu' is nothing new.
"I genuinely loved generating all that stuff," he says, "I just feel now it's time to bring the same creative energy into the real world."
However, if he's happy to take on taboo subjects one at a time, there's one challenge bemusing Russell that he managed to avoid in all that Tardis time, and that's the omnipresence of a mobile phone.
"It's like having another person in the scene the whole time," he ponders about other 21st century phenomenon.
"And it's not credible to have characters who don't have phones on them. So, in theory, every character I write about now has to be accessible to other people all the time, which is pretty extraordinary."
'Cucumber' debuts tonight on Channel 4 at 9pm. Banana airs at 10pm on E4 and Tofu via the Channel 4 website (www.channel4.com/ondemand) at 10.30pm Pictures below…