Art critics are suspicious of David Hockney because he's so popular, according to filmmaker Randall Wright.
Randall, the director of 'Hockney', exploring the life and work of Britain's most revered craftsman, tells HuffPostUK:
"He's painting for us, not the art people.
"People are suspicious of him, because he's so popular, because 700,000 fans flocked to his recent exhibition. But he shows the world very directly, he's not interested in irony, and I think people hunger for that."
For the first time, David Hockney has given unprecedented access to his personal archive of photographs and films, resulting in a frank visual diary of his long life, which he continues to spend, at the age of 77, working in his studio seven days a week.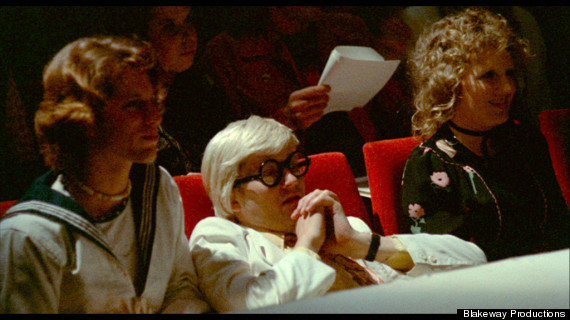 Filmmaker Randall Wright believes critics are suspicious of David Hockney because he's so popular
For Randall, a close friend of his subject, it wasn't his familiarity with his subject that caused the biggest challenge, so much as finding the time – Hockney's busy time – to film, and also treading carefully…
"David's in charge of the project," muses Randall. "But he's a vulnerable person, and extremely open, so I had to tread carefully. The last thing I wanted to do was upset him."
Randall is referring to the great amount of personal loss suffered by David Hockney, during the course of his career, particularly at the height of the AIDS epidemic in the 1980s.
"Lots of people feel a familiarity with David, because he's been in the public eye for so long," reveals Randall. "But he's actually part of a close-knit community, particularly his gay friends who survived this era, and lost so many close friends themselves. And David had to somehow sustain his career while going through all of that."
Despite that, David somehow found the optimism, and still does, to keep going, keep working, and stay in tune with the digital age of art. It is this which, according to Randall, is the key to his appeal, and makes him such a significant figure…
"Artist optimists are pretty rare," says the filmmaker. "There's been a lot that David has had to come to terms with.
"His optimism is a decision to do with looking out.
"You can spend a lot of time looking behind you, finding the thing that terrifies you the most, but David's thing is about looking out, because life is a gift."
Hockney is available on DVD now. Watch the trailer above…
(function(){var src_url="https://spshared.5min.com/Scripts/PlayerSeed.js?playList=517989811&height=381&width=570&sid=577&origin=SOLR&videoGroupID=155847&relatedNumOfResults=100&responsive=false&relatedMode=2&relatedBottomHeight=60&companionPos=&hasCompanion=false&autoStart=false&colorPallet=%23FFEB00&videoControlDisplayColor=%23191919&shuffle=0&isAP=1&onVideoDataLoaded=HPTrack.Vid.DL&onTimeUpdate=HPTrack.Vid.TC";if (typeof(commercial_video) == "object") {src_url += "&siteSection="+commercial_video.site_and_category;if (commercial_video.package) {src_url += "&sponsorship="+commercial_video.package;}}var script = document.createElement("script");script.src = src_url;script.async = true;var placeholder = document.querySelector(".js-fivemin-script");placeholder.parentElement.replaceChild(script, placeholder);})();