'The Vicar Of Dibley' is set to return later this year, for a one-off Comic Relief special, according to reports.
Dawn French has been tipped to reprise her role as Geraldine Granger to support the yearly telethon, with a new episode that will air this March.
As was the case when 'The Vicar Of Dibley' first debuted in 1994 – two years after women were first allowed to become vicars in the Anglican church – this episode will reportedly also mirror the recent real-life changes in legislation that have allowed women to become bishops for the first time.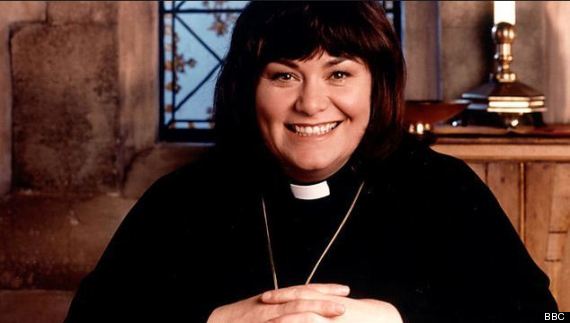 Dawn French as 'The Vicar Of Dibley'
According to the Daily Mail, when viewers return to Dibley, Geraldine will be campaigning to be given a prestigious promotion to 'Bishop of Dibley'… but will face competition from some female rivals.
A source told the newspaper: "Geraldine's character assumes she is a shoo-in to become the Bishop of Dibley but the joke is that there are some other very unexpected names in the frame.
"Some big names have been cast as the rivals but to name them would give away the joke."
Throughout the series' history, big stars like Kylie Minogue and Darcey Bussell filmed cameo appearances as themselves, while Richard Armitage was later cast as Harry Kennedy, Geraldine's future husband.
A spokesperson for the BBC has confirmed that a 'Vicar Of Dibley' sketch will air during this year's Red Nose Day celebrations on 13 March, but added: "I can't confirm anything further or provide any more detail at this stage."