Artist Hugo Dalton took part in an unusual performance at the Royal College of Music this week. In the exquisite Britten Hall, deep in the college basement, he collaborated with Indonesian pianist Imma Setiadi in a rendition of Debussy Preludes that they have titled Debussy Explosion.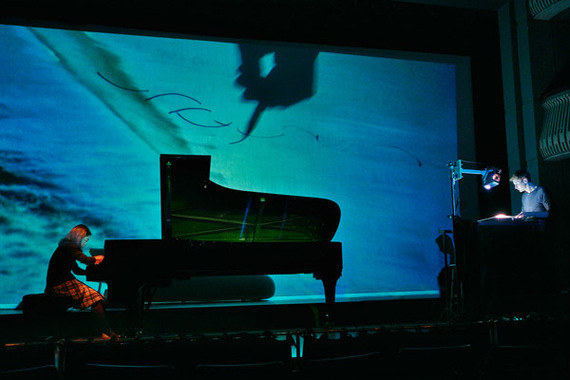 While the diminutive Setiadi emphasised the dramatic rise and fall of the piano score with the most physical of expression, the tall Dalton stood opposite lending a visual interpretation (above).
He gave this by means of a combination of computer-projected images and the orthodox projection of coloured illustrations and shapes drawn on plastic sheets. In addition, he drew "live", reacting to the nature and rhythms of Setiadi's playing.
"The most important thing for us was to present Debussy's work in a new light and to experiment with it and essentially not make it quite such a stuffy affair," he explained. "And to open up classical music a bit, and allow interpretation in for a new audience."
Dalton is best known for his swirling wall paintings with an emphasis on nature. A first-class honours graduate from London's Goldsmith's College, his artworks grace walls in several parts of the world. Indeed, last year, he gave an artistic facelift to the next door RCM Museum of Music inspired by performances by RCM students.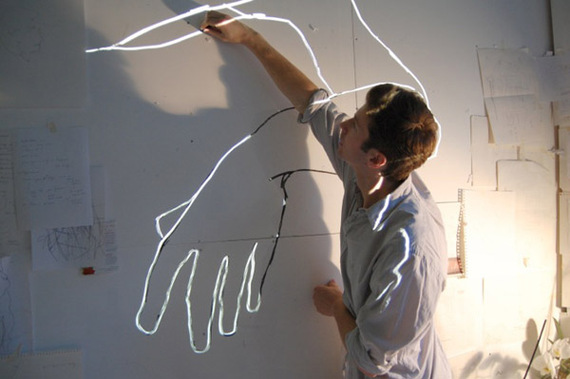 This was not his first foray into what is becoming his signature "light drawing" (above). He previously collaborated with choreographer Christopher Wheeldon and his ballet Morphoses. He plans further experiments with Imma Setiadi. She is a natural collaborator since she is taking a PhD at the RCM in a project entitled "Creating New Concert Experiences via Cross-Arts Practice for Pianists".
"If one doesn't experiment, push, things become mannered, dull and unnecessary," says Dalton. "It's also part of my work. I make work in public spaces, wall paintings are often in public spaces so I think exposure and interaction with the public is a good thing."
The pair chose to begin with the prelude Ondine, about a water-nymph blessed with free spirit who surrenders her everlasting beauty when she bears a child by a man. When he betrays her, he is cursed never to sleep again. It's a metaphor for Mother Nature and how she is drowned with materialism.
So, the images begin with a simulation of gently flowing water over which Dalton draws simple, improvised squiggles. By the time we have progressed through Debussy's Canope, referring to a funeral urn he kept on his desk, the images become appropriately darker.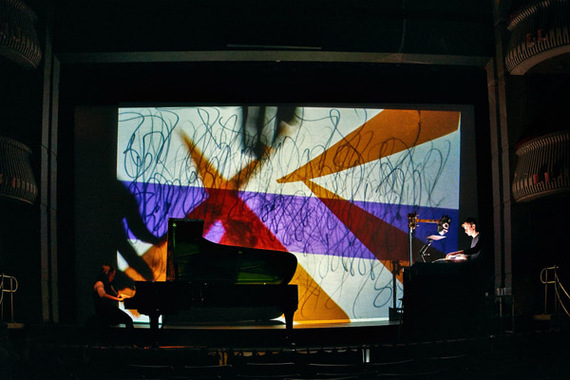 At the finale, as Setiadi hammers out, with extraordinary force and drama, the Fireworks Prelude, so Dalton reacts with frantic scribbles, bright colours and jagged images (above). Hence the explosion in the title. We have reached the "real world". Dalton highlights the image of skinned fish.
"Given that we've been dealing with a watery underworld, I figured we should stick on that and I alighted on something that I thought would create a little bit of a stir."
The relationship between music and visuals is an interesting one. While music is interpreted in the mind of the listener, that in turn can be affected by the interpretation of the performer. Adding visuals offers a different approach. If it jarred, became disharmonious, it could take away rather than add.
Debussy Explosion didn't jar and was engrossing though I have one reservation. Music and visuals have existed for half a century in the pop world in which graphic artists have let rip with all manner of lasers and high-tech gizmos.
Dalton believes that the human hand and the human mark, when displayed with classical music, speak the same language. However, I'm not convinced that to open up classical music with such a low-tech approach to an audience accustomed to ultra-sophisticated computer graphics assaulting it from every angle is necessarily the right one.
The images are used with the permission of photographer Tom Mannion.