Danny Dyer might come across as someone who doesn't exactly lack confidence, but the actor has admitted he was nervous ahead of filming scenes with 'EastEnders' legend Barbara Windsor for the soap's 30th anniversary.
MORE 'EASTENDERS':
Babs – who made Queen Vic landlady Peggy Mitchell one of the BBC soap's most iconic characters – is set to make a return to Albert Square as part of the special live anniversary week.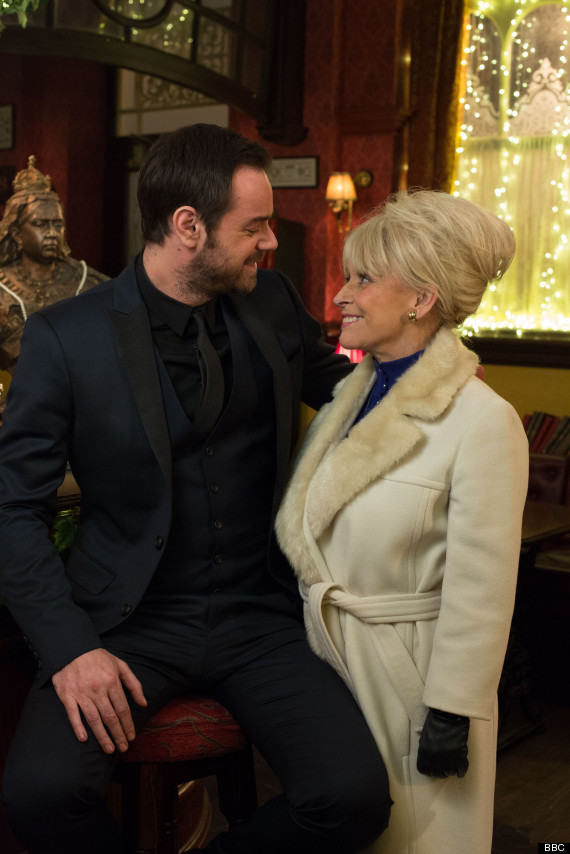 Danny Dyer (Mick Carter) and Barbara Windsor (Peggy Mitchell)
Ahead of the episode going out on Tuesday (17 Februay) Danny, who plays Queen Vic landlord Mick Carter, has revealed he was nervous, but excited, at the prospect of sharing the screen with Barbara.
"It was a real moment when I got told because for me, I think EastEnders had some of its best moments when Barbara was at the helm," he says.
"So it was a shame that when I came in, Barbara was no longer in the show. So when I was told Barbara was coming back for an episode and doing a scene with me was just a real moment of like wow, wow it's gonna happen!"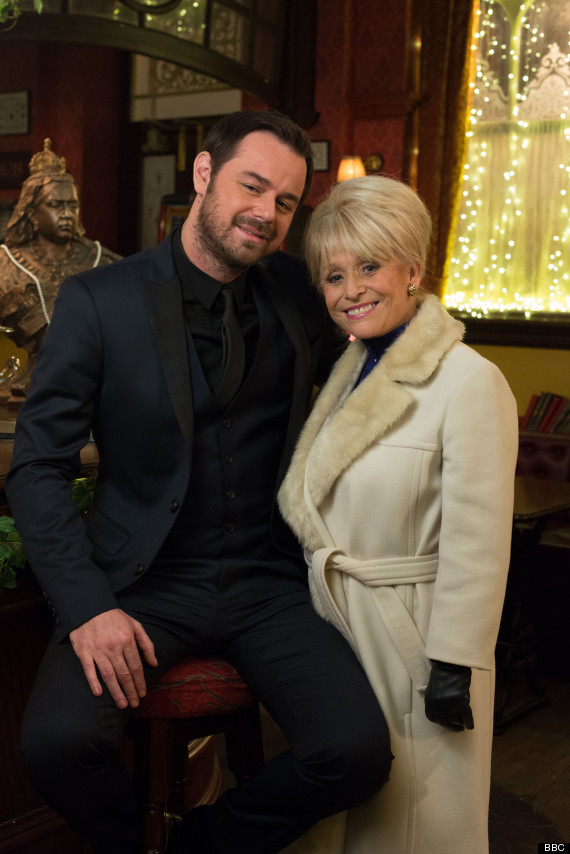 And when he was asked what was it like having Peggy back in the Queen Vic, Danny admitted it was nerve-wracking – for both of them.
"I think we were both a little bit nervous to be honest with you," he explained. "I was a bit nervous obviously because Barbara was the matriarch.
"It's an intimidating place to act in The Vic – so we were both nervous together and I think that worked beautifully. She's a beautiful lady and I think we both inspired each other in different ways."
Danny also revealed that Babs couldn't resist having a little joke at his expense when she arrived on set for filming.
"I've known Barbara for a little while but not well, but she was lovely. She wound me up and said 'oi you, I want a word with you!' I was like 'oh no here we go' and then she wound me up and gave me a big cuddle," he says.
"It was lovely to be around her. Barbara is a real force and a real presence and a massive EastEnders fan. She gave me the thumbs up which is a massive thing."
BBC One will celebrate the 30th Anniversary of 'EastEnders' from Monday 16th until Friday 20th February.