If the number of people actually watching network TV during Christmas has dramatically fallen, it seems the number of fans wanting to chat about their favourite programmes and films is on the rise, with some surprising results.
RATINGS: Looks Like The BBC Just Won Christmas!
Despite the riches of big-budget fare provided by the different channels this year, it emerges there was one show people wanted to talk about more than any other, and that was… 'EastEnders'.
REVIEW: EastEnders Christmas Day Shock – 'You're My Brother!'
Christmas Day's dramatic episode, with the Carter family in meltdown, Mick recovering from the shock of Linda's attack AND discovering he had a brother, all ignited by far more chat on social media than any other show in the festive schedule.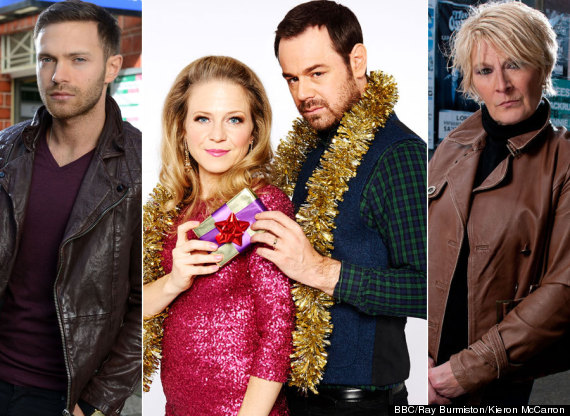 The Carter family have been torn apart
By comparison, rival ITV soap 'Corrie' didn't get a look in. The year's most anticipated TV special, 'Doctor Who', came in second, with 'Downton Abbey' and 'Call the Midwife' far, far behind.
REVIEW: Doctor Who Christmas – Spooky, Sentimental And VERY Festive
Of all the films being shown over the Christmas holiday, it was two titles that really fired the imagination of viewers to share their favourite bits, quote lines and generally gear up in anticipation for watching.
Unsurprisingly, perhaps, Sky's premiere of 'Frozen' found hundreds of people waiting excitedly to watch what is already the most profitable animated film of all time.
More unexpected is the discovery that 'The Grinch', starring Jim Carrey as a cave-dweller determined to wreck Christmas for all the folk in the town set below, stole the most amount of discussion on social media.
By contrast, chat surrounding the mega-'Muppet Christmas Carol', voted in our recent poll as the film most likely to make audiences FEEL Christmassy, only enjoyed a surge of appreciation on discussion forums while it was actually being broadcast.
REVEALED: The Films And TV Shows That Make You Feel The Most Like Christmas!