Just hours after getting hitched to Ronnie Mitchell, Charlie Cotton is going to be left fearing for his new wife's life in tonight's (Friday 2 January) 'EastEnders'.
MORE 'EASTENDERS':
After being in a critical state, pregnant Ronnie will show signs of improvement, however viewers will have to wait and see whether she survives.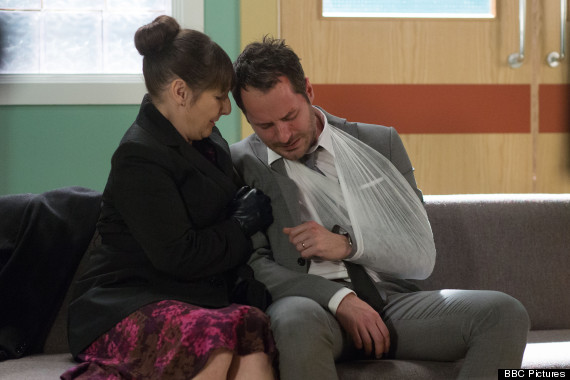 Charlie fears the worst
Charlie's mother Yvonne is by his side at the hospital, and she's the only person who knows Nick Cotton tampered with the car.
Will she 'fess up and tell her son the truth?
The New Year's Day crash was the final part of a dramatic festive season in Walford, and the drama is set to continue in the build-up to the show's 30th anniversary celebrations, which take place in February.
The Carter family have had a tough time in recent weeks, following the Christmas Day revelations which stunned Mick.
The Lucy Beale murder case remains open, however the list of potential suspects has been reduced significantly.
Watch 'EastEnders' tonight to see the events unfold.