Elvis has entered the building… or at least London's O2.
READ ALSO:
Elvis At 80 – We Look Back With These Rare, Vintage Pictures Of Elvis Presley At His Best
As fans around the world gather to celebrate what would have been Elvis Presley's 80th birthday, those who might not get as far as Graceland any time soon, but have the chance to get close to the King, courtesy of 300 artefacts usually to be found at the Memphis mansion but now part of a pretty impressive exhibition at London's O2 arena.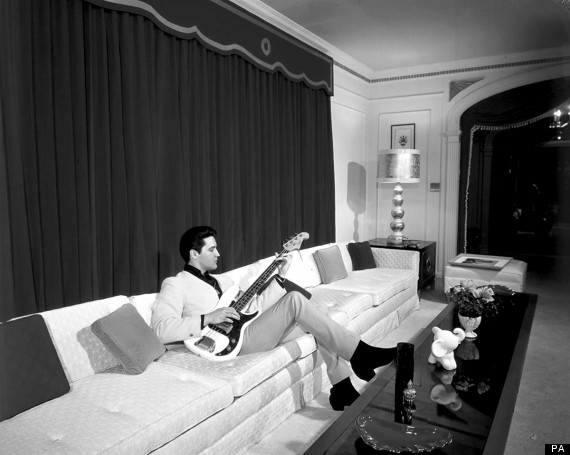 Elvis at home in Graceland, where the museum is usually housed
The exhibition is in the safe hands of Angie Marchese, in charge of the Graceland archives since the mid-1990s, a tour guide of the mansion before that, and a lady who clearly, palpably loves her job. With more than two million artefacts to choose from – including 30 automobiles and a staggering 88 jumpsuits – the biggest decision was what to bring, what to leave behind in the 70,000 square feet of secret archives.
"We wanted to tell the whole story," explains Angie, hence the rooms dedicated to Elvis's humble birthplace in Tupelo, Mississippi, his rise to stardom, his draft-serving time in Germany where he met his future wife, Priscilla, his Hollywood career, and finally his concert years after his stunning 1968 comeback special – which gets a room all to itself, diehard fans will be pleased to hear.
All this precious memorabilia usually sits naturally within the walls of Elvis's surprisingly small famous residence, but how will visitors to the London exhibition get a similarly potent flavour of Graceland?
Angie is very aware of the challenge of this, and her team have been working tirelessly to bring a taste of the Memphis mansion to London. Three rooms have been reconstructed, incorporating such familiar items as the three tellies in the wall from Elvis's own basement TV room, Elvis's clothes from his gigantic walk-through wardrobe and even a thick green carpet straight from the famous Jungle Room at the rear of the house.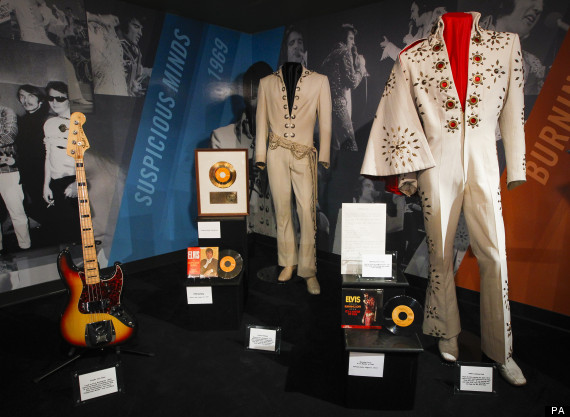 Eight of the iconic jumpsuits are in London
Priscilla Presley, who opened the exhibition just before Christmas, revealed then that the souvenirs that moved her most were the letters sent by Elvis when he was fulfilling military service in Germany, writing to his father and requesting no fanfare be made of his return – "he was very humble even then," she said.
For Angie, it's Elvis's high school third grade report card, something that made his parents Vernon and Gladys very proud. Visitors will be able to read for themselves that, even as an eight-year-old, "Elvis is very reliable".
As Angie is such an authority as well as fan, I wonder if she can put her finger on what made Elvis so special that his legacy peerlessly endures… she doesn't hesitate.
"In a word, authenticity. He was so real that, despite his gifts, people could identify and connect with him. He had his faults, but he did his best to overcome them, and he had this charisma that, even today, you can't ignore. It just grabs you."
Even with all the bling on offer – the jumpsuits competing for space with Elvis's 1956 Lincoln Continental automobile, as well as the go-kart he gave his daughter Lisa-Marie – Angela is keen that the everyday man is represented, "the son who promised his mom he would buy her a big house, the friend who would give everyone necklaces, the dad who carried a picture of his daughter in his wallet, the guy next door – he just happened to be Elvis Presley".
For ticket prices and other information about the Elvis London exhibition at the O2, click here.