There is nothing glamorous about the cold Sunday afternoon when HuffPostUK Entertainment sneaks into a secret workshop somewhere in West London for an exclusive chat with a brand new legend. Everything changed, however, when Conchita Wurst – her of the high notes, beard and Eurovision victory – enters the room to inspect the latest work on her Madame Tussauds model, ahead of its unveiling in Vienna, ahead of this year's Eurovision Song Contest, where Conchita will be handing out the gong after her historic victory last year in Copenhagen.
READ MORE:
Crikey! Eurovision Song Contest Welcomes Australia To Compete In Live Final For First Time Ever
It's a particularly sweet day for Conchita, as she tells us. "Two years ago, I was invited to sing at Madame Tussauds in Austria, where they were unveiling Justin Bieber," she remembers. "My manager said for a joke, I don't want Justin there, I want you in there, and now, hello…" She throws out a hand at the model across the room, still a couple of months away from completion, but already distinctly Conchita, arm aloft, microphone in hand, presumably ready to belt out 'Rise Like A Phoenix' and change a little bit of history.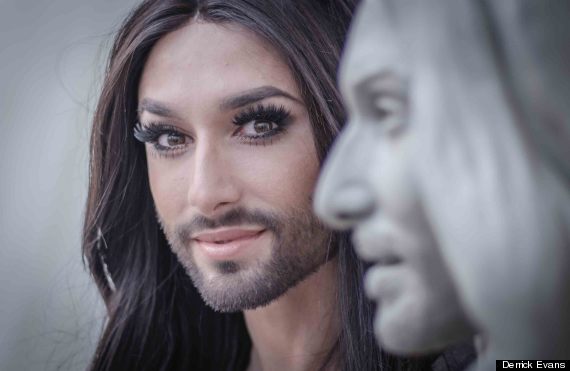 Conchita with her Madame Tussauds exhibit, still in the stages of preparation for her grand unveiling in couple of months
It was last year's Eurovision event in Denmark that changed everything, when Conchita went from sideshow to main event, and horrified the Russian contingent with her bearded lady stage persona. They pushed to have her banned from the event, which of course meant everyone else then voted in their droves, and Conchita became an overnight sensation.
Conchita is still musing at the artistry involved in her Tussauds figure. "I can't imagine how they sculpt this face out of nothing, it's overwhelming."
I remind her she's an expert in the art of creation herself. "I know how to put on makeup," she agrees. "It takes me about an hour from beginning to end, but the hair's already ready, I have a list, I don't have to think about anything. They've created this whole person."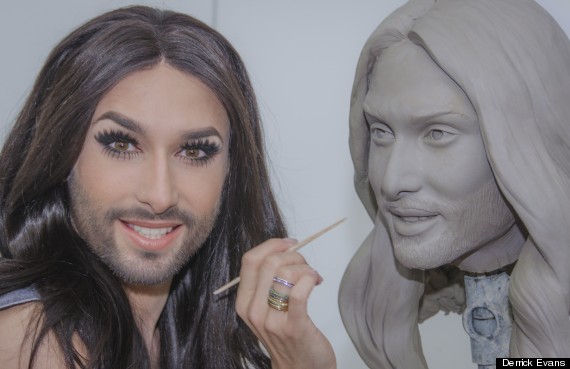 From one immaculate creation to another…
As has she. Behind the mascara is an obviously handsome, warm-eyed man called Tom – "Tom's a very shy person, it's the other one who never stops talking" is how she explains it – but it's Conchita who's on a tireless schedule and loving every minute.
"I woke up with a new life and a new schedule," she says of the transformation. "I now have the chance to do what I always wanted, entertain people, be on stage AND pay my bills. I always wanted to wear these fabulous dresses, be this creation.
"And now the door's opened, I'm working hard so it stays open forever."
Despite the fact that singlehandedly saw off the Russians in Copenhagen, that she's since addressed the European Parliament, sung for UN chief Ban-Ki Moon, Conchita is reluctant to assume a political status over the personal…
"Everything I do is for very selfish reasons, because I want to do it," she reveals.
"I don't really feel pressure. Expectations are a bad thing, because you get disappointed very easily. When people get mad at me, I think, is it because I made a mistake, or because they expected me to do something that I didn't do? This is the stuff I figure out. So I feel quite free in what I do.
"Eurovision is always political. Last year, of course there were a lot of topics going on – Russia and all the stuff – I totally get it.
"I get it that it is in some way political, but at the end of the day, for me it's not, because I'm just talking about things that we all want to have. I get it that it is in the box of socio-politics, but for me it's just one more thing. "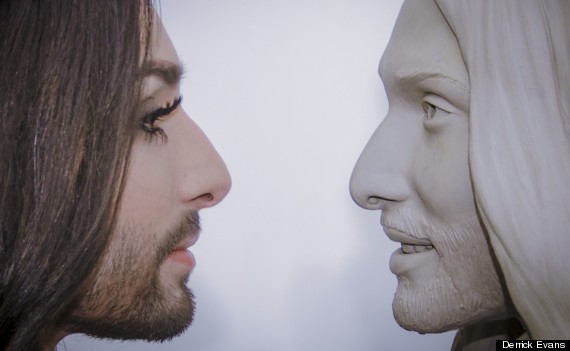 "No Plan, and no Plan B"
I ask her if she was ever scared of her critics…
"I thought you were going to ask me if I was scared nobody would be interested in two years from now," she interrupts revealingly.
"No, I don't have fear of something in my system, I'm quite naïve when it comes to that.
"I believe in the good of people, because I think once I get scared going on stage, it's time to quit, and I'd never do that.
"I had moments when I thought this could be interesting, but I always felt comfortable – because all this makeup, wig and stuff, makes a different person, it's a kind of shelter.
"That's why I choose to appear like this, because I can express myself even bigger and more glamorous."
So now she's conquered the world with her beard and baubles, what next for Ms Conchita Wurst?
"I've never had a plan, and I've never had a Plan B," she says emphatically.
"I'm dreaming of a Grammy. I don't know if I'll get one, but as a musician and a singer, this should be the highest goal. My album will be released in May, so that's the first step, to start with the music."
Finally, never mind being a political beacon for free rights, a totem of acceptance, a diva of defiance, how does she cope with those towering heels she's in today? She flicks her hair and smiles.
"I don't think about the shoes or hair in particular.
"I don't want to say the following because I'm not a whiner, but being a drag queen is 70% pain. You just get used to it."
Conchita Wurst will be presenting the award to this year's Eurovision Song Contest winner in Vienna on 23 May 2015.