The first time I spoke to Felicity Jones – three short years ago for the indie romantic drama 'Like Crazy' – she was curled up in a ball in her publicist's office, looking like every other pretty Londoner. This time, she's at the centre of a huge international junket, as the co-star of the widely award-tipped (and deservingly so) drama 'The Theory of Everything'. It seems to have happened very quickly, I tell her. "Only fifteen years of work," she agrees.
READ ALSO:
EXCLUSIVE: Eddie Redmayne Reveals The Reality Check He Got Playing Stephen Hawking
Her current film explores the private life of lionised physicist Stephen Hawking, of the battles faces by him and his wife Jane as they face, very much together, the challenges of his illness – diagnosed when he was still a student at Cambridge – and later his renown as the world's biggest brain trapped in the most incapacitated body.
Eddie Redmayne has garnered plaudits for his almost unrecognisable transformation into Hawking, but Felicity Jones provides the serene but deeply sensitive prism through which we view Hawking's unique life, with Jane, for 25 years, by his side.
"You make things and they don't always connect with an audience," says Felicity, of the buzz created by the film on both sides of the Atlantic, just ahead of Awards Season. "It's wonderful to make something I'm so proud of, and really cared about. I'm revelling in it."
Long before the film reached audiences, Felicity was tucked up in the house of Jane Wilde Hawking, now remarried but still friends with the Professor, and happy to share photographs and memories with the woman about to play her.
"She was sitting on the floor looking at early pictures of the pair of them," remembers Felicity. "I couldn't believe I was getting this private glimpse, it was very special."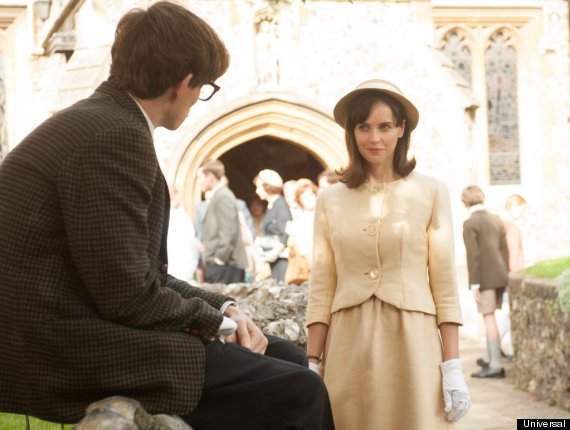 Both Eddie Redmayne and Felicity Jones have been Golden Globe-nominated for their performances in 'The Theory of Everything'
Felicity has since received Jane's praise for her role – "she was very pleased I'd got her voice bang on," says the actress, looking suitably chuffed – but admits she was terrified of acting some particular scenes in the film, including one where Jane brings a spelling board to Stephen for the first time after he's had the operation that removed his voice. It's long before he gets his famous synthesiser, and the scene is a desperate one, with Stephen in a world of his own, and Jane realising that they will never again speak to one another.
"That scene was percolating in my sub-conscious, but I didn't dare think about it," says Felicity now.
"I thought that the was the moment when their relationship started to break down, they've lost that essential ingredient of communication, and it was incredibly sad."
WATCH ABOVE: Our Exclusive Clip from the film
Without giving too much away, there's another scene towards the end of the film that had people reaching for their hankies at the screening I went to, and Felicity reveals it was equally hard for her and Eddie…
"We shot at the end of the film, we'd become so immersed in these people's lives, that we completely felt their pain."
Despite all this, Felicity was inspired by the events she came to know so much about, and by the woman came to understand.
"There were all sorts of complications going on, but I was always struck by Jane's capacity for love and care, and this determination and tenacity she brought to the whole of their relationship, plus her particularly British, crisp humour.
"There's a scene when Stephen's new nurse (and future wife) Elaine tells Jane how lucky she is to be married to him. And Jane expresses volumes by saying hardly anything at all. She just smiles and says, 'Well, let's see how you get on, shall we?' Felicity grins. "I loved that about her."
'The Theory of Everything' is in UK cinemas now. Watch the trailer below…