In the latest newly-released clip from 'Fifty Shades Of Grey', viewers have finally been invited inside Christian Grey's infamous 'Red Room of Pain'.
True, we still don't actually get to set foot inside of it, but we make it to the door, which is progress if nothing else.
SEE MORE:
In the new clip, Jamie Dornan's character invites Anastasia Steele – played by Dakota Johnson – to have a look inside his "playroom", although she gets the wrong end of the stick and asks him if it's where he keeps his games console.
Hmmm… not quite, Ana.
The two then disappear inside the room together, where Anastasia is no doubt disappointed to see it's filled with riding crops, chains and other varying S&M apparatus, rather than beanbags and a Pacman machine.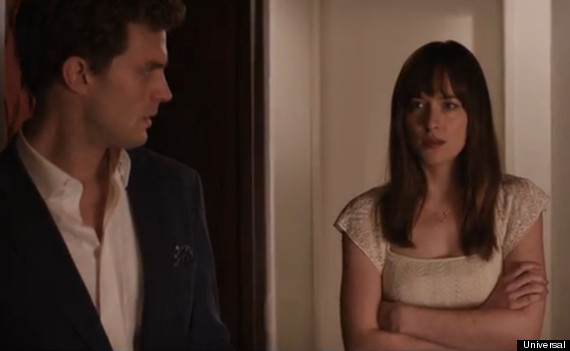 Ana sees the playroom for the first time
Of course, we can't help but feel the new clip might be improved by the presence of some Lego, after watching a new Lego-fied version of the trailer.
'Fifty Shades' is due to hit cinemas on Friday 13 Feb, which is conveniently just in time for Valentine's Day, in case you fancy a change of pace from a box of Milk Tray and a bunch of petrol station flowers.
Find out everything you need to know about what promises to be one of 2015's biggest film releases here.