Sam Taylor-Johnson has confirmed that she will not be returning to the 'Fifty Shades' franchise for the two planned sequels.
SEE MORE:
Sam directed the film adaptation of the erotic novel 'Fifty Shades of Grey', which hit cinemas last month, starring Dakota Johnson and Jamie Dornan as Anastasia Steele and Christian Grey.
However, with two sequels 'Fifty Shades Darker' and 'Fifty Shades Freed' in the pipeline, she has now announced that she is stepping down, and will let someone else take the helm on the second and third films in the series.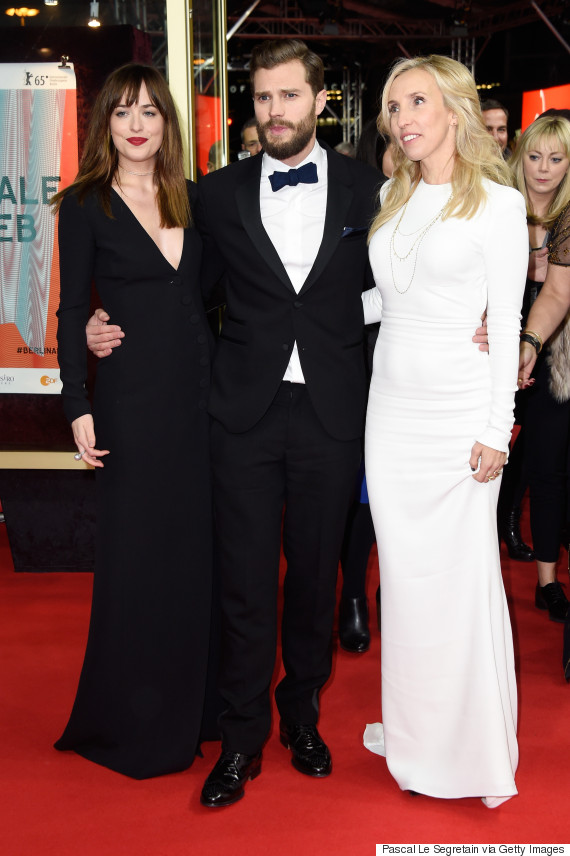 Sam Taylor-Johnson poses with the stars of 'Fifty Shades'
She told Us Weekly: "Directing 'Fifty Shades of Grey' has been an intense and incredible journey for which I am hugely grateful.
"I have Universal to thank for that. I forged close and lasting relationships with the cast, producers and crew and most especially, with Dakota and Jamie.
"While I will not be returning to direct the sequels, I wish nothing but success to whosoever takes on the exciting challenges of films two and three."
Rumours have been rife for weeks now that she was planning to bow out of the 'Fifty Shades' series, due to her reportedly strained relationship with the novels' author, E.L. James.
In an interview with HuffPost UK Entertainment last month, Sam confessed that she and E.L. James had clashed on a number of occasions during the film's production, explaining: "The pulling, to-ing and fro-ing was literally on every single detail.
"Literally, every single aspect of it, which it's great to have that wealth of material there, but at the same time, it was a case of, 'now look just leave me to the vision that I have because I need to also create to take it to another place.'
"I'm not saying she wasn't right to be like that, but it was difficult."
Jamie and Dakota are both thought to be reprising their roles for the planned sequels.