A new 'Fifty Shades Of Grey' trailer has been revealed, premiering on US television during the 2015 Golden Globes.
Shortly after being aired across the pond, the extended clip was posted online for fans around the world to enjoy.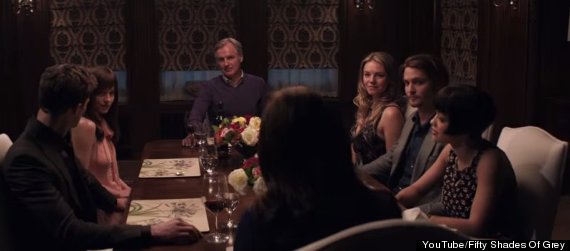 Ana meets Christian's family
The vid features the movie's stars Jamie Dornan and Dakota Johnson, and also gives us our first (brief) glimpse at Mr Grey's family, including his adopted sister, played by Rita Ora.
The movie is due out in the UK on Valentine's Day, and Jamie has previously revealed the lengths he went to in order to research the role, admitting that he visited a sex dungeon.
Jamie and Dakota were both in attendance at the Golden Globes on Sunday night, while their castmate Rita joined them later at one of the after parties.
Sadly, fans hoping to see a lot of Jamie will be left disappointed, as he's revealed that he won't be stripping off naked in the film.
Watch the latest trailer above…