There's good news and bad news for the cast and crew of 'Fifty Shades Of Grey' – the BBFC have passed the film without insisting on any cuts… but it has been given an 18 certificate, meaning younger cinema-goers won't get the chance to see it.
SEE MORE:
It should probably come as no surprise that the much-anticipated film adaptation of E.L. James's erotic novel has been branded suitable for adults only by the British Board of Film Classification, due to "strong sex" scenes throughout the film.
For anyone actually interested in the film's plot – surely somebody must be, the book has sold millions of copies all over the globe – 'Fifty Shades' tells the story of Anastasia Steele (Dakota Johnson), whose life changes forever when she meets S&M-obsessed business tycoon Christian Grey (Jamie Dornan).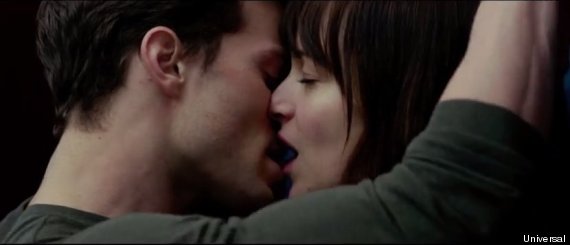 Christian Grey (Jamie Dornan) and Anastasia Steele (Dakota Johnson)
Although the book was largely panned by critics for its sensationally explicit content, compared with a disappointing lack of actual narrative, director Sam Taylor-Johnson has insisted she didn't want the sexual content of the film to overshadow everything else.
She told the Guardian: "The thing that was most difficult was how and where to pepper the sex, and to not make it feel like it was gratuitous.
"So it had to be a really strong part of the story, and I had to give characterisation to each sex scene, to make them different. I didn't want it to be graphically explicit, and I know that's going to be disappointing to some people. For me, that's unerotic."
Jamie Dornan has already disappointed fans looking forward to catching him in the buff with the news that his "todger" did not make it into the final film.
'Fifty Shades Of Grey' hits UK cinemas on 13 February.