If you can't wait to see Jamie Dornan in his secret room in the forthcoming 'Fifty Shades of Grey', you can catch him in romantic 'Racing Hearts', on home release from this Monday.
READ MORE:
What Jamie's Most Worried About Seeing In 'Fifty Shades'…
Jamie's director Dominique Deruddere, previously Oscar-nominated for 'Everybody's Famous', tells HuffPostUK that he gave this emerging star his first romantic lead role after Jamie visited him in Ghent, and the pair got drunk together.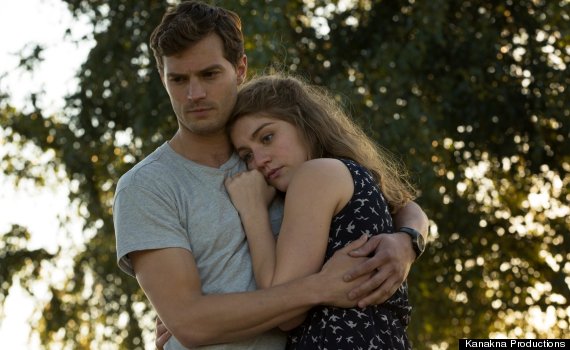 Jamie Dornan with co-star Charlotte De Bruyne in 'Racing Hearts'
"He was a total unknown when we were preparing," remembers Dominique. "My British casting director spotted him and told me he was going to be a big star. So I watched a scene from 'The Fall' and I was hooked. I realised this was a very strong personality. Then he came to visit me in Ghent, and we got hopelessly drunk together and hopelessly lost in the town somewhere."
Dominique is pretty chuffed that he was one of the first to spot a star in the making…
"I was really happy with his performance," he remembers. "He played that devil heart man with a soft voice. In one scene, he's listening to his dad telling a story in the attic, and he's a young kid again.
"When I heard he'd got that massive role, I opened up a bottle of champagne to celebrate for him."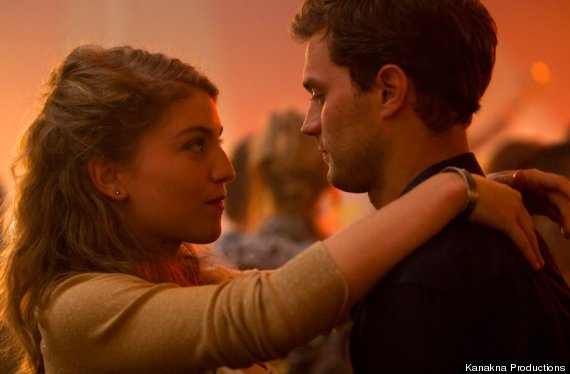 Dominique Deruddere is chuffed to have given the 'Fifty Shades' star his first romantic lead role
Jamie plays Colin, a slick but unemotional Wall Street man, who finds himself in a rural outstop in Flanders, trying to secure a deal for a racing pigeon for a rich sheikh – strange but true. He's also, like a hero in many a fairytale, an outsider on a quest, who is changed forever by love. "I try to avoid realism," explains Dominique. "I refer to this as a parable, it's a nice way to tell a story, hopefully revealing some kind of universal truth."
This novel idea for a film came out of Dominique's own sense of homesickness when he was living and working in LA.
"I moved to LA seven years ago, and I was feeling a bit bored one afternoon," he remembers. "I looked into the sky and saw these racing pigeons, which reminded me of my youth.
"I thought, what are pigeons doing in LA?
"One of my neighbours was a pigeon fancier, he explained the international element, and slowly I thought of a sheikh wanting to have a racing pigeon"…
"So this is a film about love, but also someone being as homesick as me."
'Racing Hearts' is available on DVD from Monday 2 February. Watch the trailer below…