'Blind', Eskil Vogt's unique, inventive, challenging and witty directorial debut contrasts with Damian Szifron's glorious romp into apocalyptic revenge.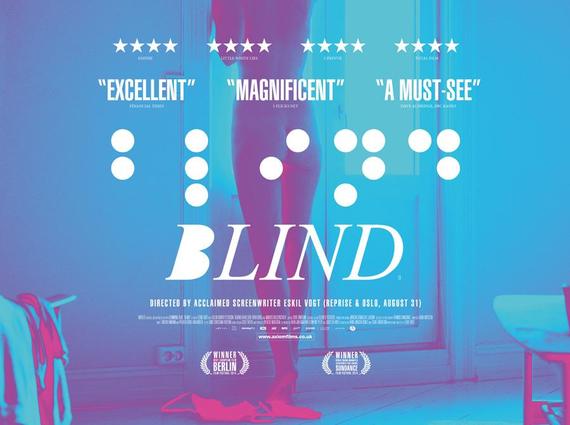 Director: Eskil Vogt
Cast: Ellen Dorrit Petersen, Henrik Rafaelsen, Vera Vitali, Marius Kolbenstvedt
Genre: Drama
Language: Norwegian with English subtitles
Country of Origin: Norway, Netherlands 2014 96 mins.
Sundance 2014 Screenwriting Award: World Cinema Dramatic, Europa Cinemas Award for Best European Film 2014 Berlin International Film Festival
'Blind' is a fascinating and playful tale of a blind woman with limitless imagination who creates a fictional narrative in her mind of what she can't see with her eyes -'it's not important what is real as long as I can realise it.'
Ingrid (Ellen Dorrit Petersen) has lost her sight through an undiagnosed genetic condition, but still recalls how the world around her looks. She rarely leaves her high rise apartment and suspects that Morten (Henrik Rafaelsen), her architect husband sneaks back to voyeuristically spy on her. Ingrid's world is soon populated by Morten's old college friend Elinar (Marius Kolbenstvedt), a lover of cinema and music but addicted to internet porn and spying on Elin (Vera Vitali) a lonely single mother who lives opposite.
Inventive, unique, challenging, unpredictable and powerful, with a humorous touch throughout. Ingrid's deepest fantasies, desires and fears become a constant reference. Reversed narratives suggest nothing is what it seems with Ingrid even introducing her real life husband, the dull and uninspired Morten into her fictional story as a love rival for Elin's affections. Her imagination becomes her reality.
Screenwriter turned director, Eskel Vogt's witty and outstanding directorial debut is superbly complemented by Ellen Dorrit Petersen's full screen performance as Ingrid.
Released by Axiom Films 27th March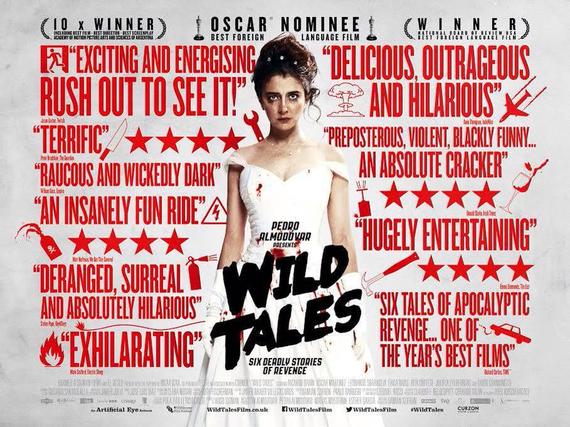 Director: Damian Szifron
Cast: Rita Cortese, Ricardo Darin, Nancy Duplaa, Erica Rivas, Diego Gentile
Genre: Comedy
Language: Spanish with English subtitles
Country of Origin: Argentina, Spain
All the pleasures of stress-filled 21st-century life are caught in Damian Szifron's delicious black comedy.
The black cloud descends, conversation dies and they're poised to implode. The black cloud changes to red and it's tip over the edge and play with madness. 'Wild Tales', writer-director Damian Szifron's stylish black comedy satirises Argentina with six short stories linked by vengeance where simmering rage at inequality, injustice and the demands of daily life explode into black theatrical rage.
Szifron's six unrelated stories of losing it paint an hilariously comic but frightening nightmare of apocalyptic revenge. Model Isabel's (Maria Marall) chat with music critic Salgado (Dario Grandinetti) will realise a fatal link to all passengers on a plane, a face from the past sees a waitress (Julietta Zylberberg) seek revenge, road rage leads Diego (Leonardo Sbaraglia) into a gladiatorial battle, demolition expert Simon (Ricardo Darin) achieves hero status with a parking ticket, a hit-and-run, the darkest of the stories reveals greed, arrogance and corruption and the sixth and funniest story, Romina's (Erica Rivas) hilarious revenge on new husband Ariel (Diego Gentle) at their wedding reception.
Consistently witty and beautifully shot, 'Wild Tales' is a magical black comedy that vividly captures a sense of irony.
Released by Artificial Eye/Curzon Film Releasing 27th March
For Film and Blu-ray/DVD reviews see: www.film-reviews-and-news.co.uk