Shaun the Sheep wins the day, an independent gem sees Eddie Marsan giving a captivating performance and the story of Martin Luther King's fight against racism graces the screen.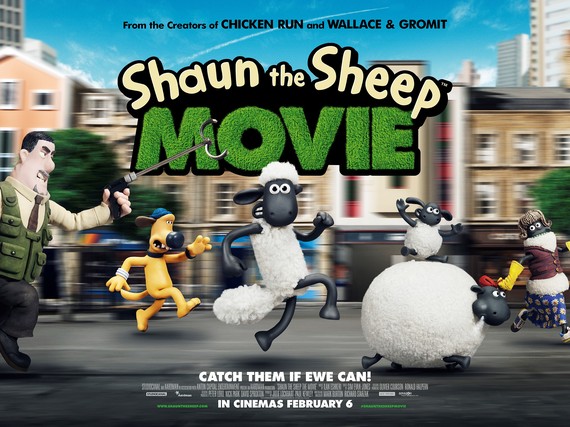 Director: Mark Burton & Richard Starzack
Genre: Animation Adventure
Language: English
Country of Origin: UK 2014 85 mins.
'Charming, innovative and funny – Sean wins the day.'
'Shaun the Sheep' made his 1995 debut in Nick Park's Oscar winning short film A Close Shave, starring Wallace and Gromit. Now he's the star in his debut feature and he's a hit. It was a bold move by Aardman to go without voice-over in what's essentially a silent film but it works adding strength to this delightful film. Sit back and enjoy 85 minutes of fun.
Life on Mossy Bottom Farm with The Farmer (John Sparkes), who should have gone to Specsavers and Blitzer (John Sparkes), the ineffectual sheepdog's OK but Shaun's (Justin Fletcher) in a bit of a rut and needs a break. Taking the day off and changing routine into adventure seems easy but when The Farmer does a formula 1 in a caravan down a very steep hill into the Big City Shaun and the flock must leave the farm and rescue The Farmer with the help of Slip (Tim Hands), the orphan dog and battle with Trumper (Omid Djalili), the square jawed Big City animal catcher.
Comedy with a touch of Jacques Tati's Monsieur Hulot deadpan humour plus slapstick mix easily with action and drama as Shaun jumps from one adventure to the next. The accompanying musical soundtracks back the set pieces beautifully and it's a visual delight. Blitzer mistaken for a surgeon's a hoot, Sean and the flock dine in sheepy style in the Big City, The Farmer hits number one in the hairdresser's top 10 and the adventure(s) go on. Aardman tips its hat to some well known characters, with Hannibal Lecter and Giles' infamous cartoon character, Grandma popping up.
Great fun. A delight. Shaun the Sheep conquers.
Released by StudioCanal 6th February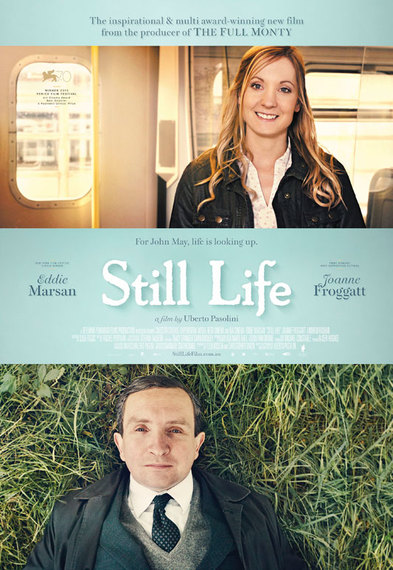 Director: Uberto Pasolini
Cast: Eddie Marsan, Joanne Froggatt, Karen Drury
Genre: Comedy Drama
Language: English
Country of Origin: UK 2013 92 mins.
Winner Best Director 2013 Venice International Film Festival, Best Film 2013 Reykjavik International Film Festival
Released by ARTIFICIAL EYE/CURZON FILM RELEASING
'Captivating and compelling. Eddie Marsan is extraordinary.'
Still Life, Uberto Pasolini's second feature is a gem. Inspired by real life events this poignant and compelling tale of life, love, and a man's commitment to his fellow man sees Eddie Marsan give a sensitive, brilliant, quirky and authentic performance as John May whose loneliness and solitude suggests an empty personal life but who's emotionally self-sufficient finding fulfilment in his job, a life dedicated to those who die alone. it's a world seen and felt from John may's point of view.
John May (Eddie Marsan) is a council worker whose job is to find the next of kin of those who have died alone. Highly meticulous and obsessively organised, with no friends or family, the job's his whole life. He goes beyond the call of duty to see a job through. Only when all leads have been checked will John May close the case and organise the funeral for his forgotten 'clients'.
John May's neat, calm and ordered life changes when Billy Stoke, an elderly alcoholic is found dead in the flat directly opposite. Visiting the flat to search for clues to his neighbour's life, he sees the mirror image of his own but as May starts to research Billy Stoke's life he receives devastating news – the department is being downsized, and John May is being made redundant. What will he do without his job, without his routine?
With a few days grace, John May begins to piece together Billy Stokes's rich but fractured life which leads to Billy's estranged and vulnerable daughter, Kelly (Joanne Froggatt) and these two lonely souls are instinctively drawn to one another.
Still Life is a gem.
Released by Artificial Eye/Curzon Film Releasing 6th February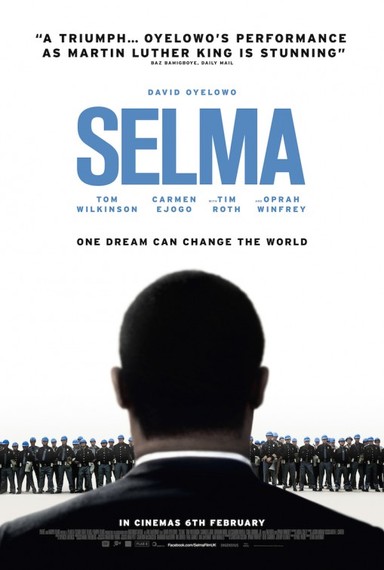 Director: Ava Du Vernay
Cast: David Oyelowo, Carmen Ejogo, Tom Wilkinson, Tim Roth, Oprah Winfrey, Cuba Gooding
Genre: Biographical Drama
Language: English
Country of Origin: UK, USA 2014 128 mins.
'Powerful with memorable performances, a defining moment in American history.'
Powerful and with a distinct flavour of the times in a defining moment in America's history, David Oyelowo brings power and presence to the role of the charismatic and very human Dr. Martin Luther King, Tim Roth convinces as Alabama's Governor, outspoken segregationist George Wallace but it's Tom Wilkinson who takes the gong as Lyndon B. Johnson whose adversarial yet respectful relationship with Martin Luther King is pivotal to this story.
On 7th March 1965, US TV news coverage of the violent confrontations between local and state troopers in Selma, Alabama during a peaceful march by African Americans seeking the right to vote was a defining moment in the non-violent struggle against racism.
In the spring of 1965 Dr. Martin Luther King, Jr. (David Oyelowo) attempted three times to make a peaceful march from Selma to Montgomery, Alabama in the historic struggle to secure voting rights. The violent confrontations, the final triumphant march and world wide press coverage galvanized American public opinion and persuaded President Lyndon Johnson (Tom Wilkinson) to introduce the Voting Rights Act of 1965, protecting African-Americans' right to vote.
Shot largely in Alabama in many of the same locales and captured beautifully by cinematographer Bradford Young's naturalistic lighting, Selma is the first film to attempt to focus on a very human Dr Martin Luther King and the voting rights movement presenting the civil rights leader as flawed and with something of a complicated love life whilst under intense pressure including 24/7 FBI surveillance.
Ava Du Vernay brings to the fore the pivotal role women played in the civil rights movement – Annie Lee Cooper (Oprah Winfrey) notorious for punching segregationist Sheriff Jim Clark (Stan Houston) to the floor and King's iconic wife Coretta (Carmen Ejogo) who met privately with Malcolm X (Nigel Thatch) just weeks before he was killed in a move at reconciliation.
Archive footage in the finale scenes adds authenticity but it's the non-probe approach into Martin Luther King's complex life that niggles but presumably the King estate put a hold on that.
Released by Pathe 6th February
For an update on Films, DVDs and Blu Ray see www.film-reviews-and-news.co.uk