Steve Carell, tipped for at least an Oscar nomination for his role in 'Foxcatcher' out this week, got the part after he told his director he had only ever played characters with mushy centres.
Bennett Miller tells HuffPostUK of his decision to cast Steve in the role of awkward outsider John DuPont:
"This is a character that in the beginning might feel like a Steve Carell character – hapless, benign, awkward – who turns and becomes dangerous.
"When I first met Steve and talked to him about the role, he told me he had only played characters with mushy centres, and John Du Pont appears to have a mushy centre, but does not.
"Steve understood what was called for – to take us from an almost comedic place to a dangerous, dark place."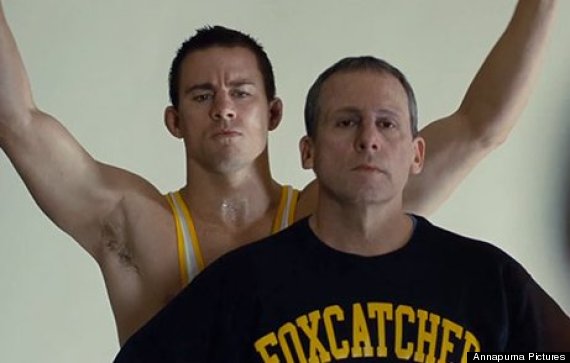 John DuPont as played by Steve Carell, starts off as benign, "like a Steve Carell character"
From the beginning of the film, which has been multi Golden Globe-nominated and is touted as one of the forerunners this coming Awards Season, it is clear this is a career-turning performance from the established comedic star of 'The 40-Year-Old Virgin' and 'Anchorman'. As the mysterious John DuPont, heir to one of American's most celebrated fortunes, Steve is almost unrecognisable, by turn pathetic, unappealing and ultimately dangerous.
The film tells the true story of how DuPont cast himself in the role of professional wrestling coach, buying the services of top athletes including brothers Mark and Dave Schultz, both Olympic champions. The image of DuPont, lording it over these prize sportsmen, having recruited them with his lavish wealth and promises, and nobody acknowledging the situation, is what initially appealed to Bennett – "they each have what the other doesn't," is how he puts it now.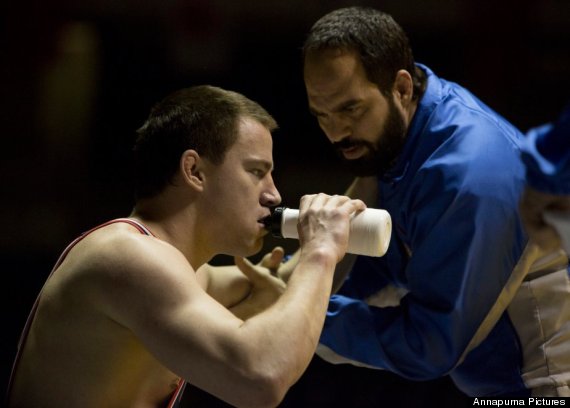 Channing Tatum and Mark Ruffalo are the Schultz brothers – "I can't imagine anybody else in these roles"
The parts of Mark and Dave Schultz belong to Channing Tatum and Mark Ruffalo respectively, with Bennett Miller revealing he offered the part to Channing eight long years ago, when he first set out to make the film, and had spotted the actor in his breakthrough role 'A Guide to Recognising Your Saints'. And Mark Ruffalo had previously been a wrestler himself, as had his father. Bennett says now, "I can't see anybody else in any of these roles."
I first saw 'Foxcatcher' during the Cannes Film Festival last summer, where the credits were greeted by a standing ovation, and hugs for the cast and crew from the Schulz family watching alongside.
Despite this, Mark Schultz has recently expressed his wrath in a tireless, swearing outburst on Twitter, evidently furious at his complex portrayal by Channing Tatum, as a tough but complicated man who temporarily handed over control of his life to a much lesser specimen. (Mark Schultz has since clarified his emotional response… )
Bennett Miller, speaking to me before Mark Schultz's recent complaints, is adamant that he has his subject's support..
"I think there was a lot about it that made him uncomfortable when he learned about it, being under the spell and power of a guy like DuPont, how he had allowed himself to be compromised and give away his power, by psychologically controlled by this guy," is Bennett's view.
"He would have preferred to have told a different story, but after a lot of research and conversations, I felt this was along the lines of what actually happened. But he was not totally pleased about some of the content."
"When he finally saw it, the film landed hard, but in a good way. He has joined us at a number of festivals and he always sits all the way through it. He is definitely a supporter of it."
'Foxcatcher' is in UK cinemas from Friday. Watch the trailer below…