It's not just millions of One Direction fans who are still coming to terms with Zayn Malik's decision to quit One Direction – his bandmates are struggling to cope too, especially Harry Styles by the looks of it.
READ MORE:
The 21-year-old was spotted wiping away tears as he performed on stage in Jakarta, just hours before Zayn announced he was leaving the boy band.
The singer looks visibly upset as he rubs his eyes before turning his back on the audience with his head down in a fan's video, which has been shared online.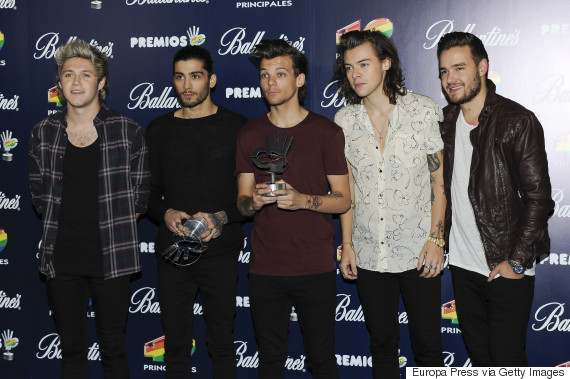 One Direction (l-r) Niall, Zayn, Louis, Harry and Liam
Directioners were quick to show their support for the emotional star, with one writing: "I just saw the vine of harry crying I didn't think my heart could break more than it already has."
While another added: "Harry was crying up on stage tonight in Jakarta. DON'T DO THIS TO ME. DON'T CRY BABE."
The video surfaced just hours after Zayn released a statement confirming he was quitting the biggest band in the world.
"My life with One Direction has been more than I could ever have imagined. But, after five years, I feel like it is now the right time for me to leave the band," he said.
"I'd like to apologise to the fans if I've let anyone down, but I have to do what feels right in my heart. I am leaving because I want to be a normal 22 year old who is able to relax and have some private time out of the spotlight. I know I have four friends for life in Louis, Liam, Harry and Niall. I know they will continue to be the best band in the world."
The remaining members of the group have reassured fans that they will be recording a new album and that their world tour will still go ahead.
They said in a statement: "We're really sad to see Zayn go, but we totally respect his decision and send him all our love for the future. The past five years have been beyond amazing, we've gone through so much together, so we will always be friends.
Watch Harry crying on stage in the video above.