Just in case you didn't know that there was a 'Fifty Shades of Grey' film on the way, the first clip from the lusty film has been released, and we present it to you above for your viewing enjoyment this lunchtime.
SEE MORE:
The first clip from the highly-anticipated flick shows Christian and Ana having a seemingly innocent conversation in a hardware shop, as he stocks up on all the usual – cable ties, masking tape, oh, and a bit of rope while he's about it.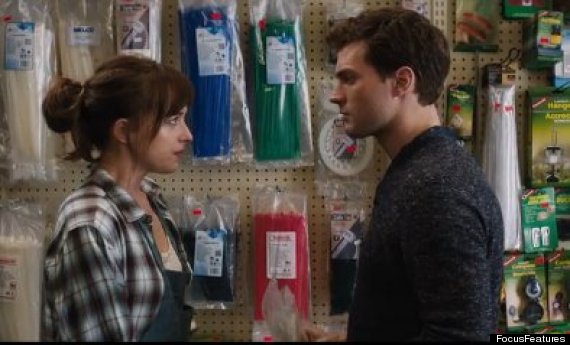 Just a completely innocent conversation about rope and stuff in a hardware store for Ana and Christian Grey
Readers of the much-loved books will have no problem spotting the signs of what's to follow. The film, adapted from the mega-selling novel by EL James, telling the story of innocent maiden Anastasia Steele and her introduction into a secret world by the S&M obsessed Christian Grey, will be in cinemas in a couple of weeks.
There's already been a bit of controversy, with the British Board of Film Classification slapping a big '18' sticker on the front of the can – ie, it can only be seen in cinemas by adults.
This follows a report that the film has a hefty percentage of graphic sex scenes, enough to put it on a par with many a porn offering.
Despite that, the film's director Sam Taylor-Johnson has insisted she worked hard for the character of Anastasia not to be objectified through a man's eyes. That, according to Sam, is why we get to view the world through Ana's eyes first, so that she becomes a real person in the minds of cinema-goers. Hmmm, let's see what you think… and check out Jamie Dornan's American accent while you're about it. Fair crack for an Irishman?
'Fifty Shades Of Grey' will be in UK cinemas from just before Valentine's Day, 13 February. Watch the trailer below…