Justin Bieber has denied that his new Calvin Klein campaign was digitally enhanced to make his *ahem* appendage more ample.
SEE MORE:
Earlier this week, gossip site BreatheHeavy.com posted an animated GIF that they claimed showed a photo of The Biebs without photoshop, with a much smaller chest and arms, which they alleged was emailed to them by someone close to the shoot.
The site alleged that the 'Beauty and a Beat' singer had behaved like "a douche" on set, telling photographers he wanted "to look taller and buff. Bigger bulge implied".
However, the site have now taken down the image, sparking speculation that it might not have been completely legit, and issued a statement, claiming that Justin has now denied that the pictures are photoshopped.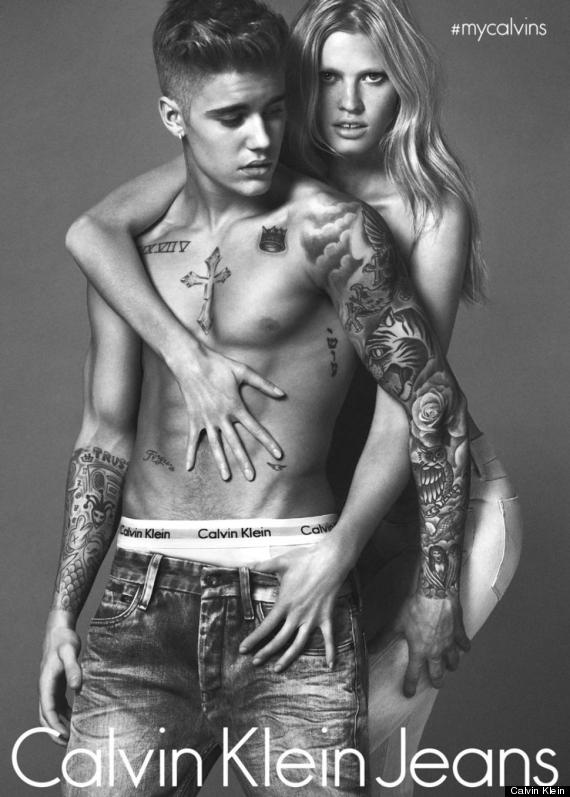 Justin Bieber and Lara Stone pose for Calvin Klein
They said: "Bieber denies the photo is real, and I respect that and will believe him."
As if that wasn't enough, they also featured a quote attributed to his personal trainer, who reportedly said: "I can definitely confirm that he is a well-endowed guy. I sound weird saying that… but yes."
Justin features in the new photo-shoot alongside Lara Stone, who he first appeared with during a presenting spot at the 'Fashion Rocks' show during New York Fashion Shoot.
During the spot, Justin did an impromptu strip for viewers, showing off his Calvin Klein underwear, weeks after the first reports began circulating that he had been chosen as the new face (and body!) of CK.