Let's face it, love him or loathe him, Justin Bieber looks pretty damn hot in the new Calvin Klein underwear ads, what with that new gym-honed body of his, but all is (possibly) not what it seems.
Of course, there's no way the photographs featured in a major, worldwide advertising campaign would be released into the public domain without an element of retouching, but, according to one source at least, Photoshop played a much bigger role in those snaps than any of us may have thought.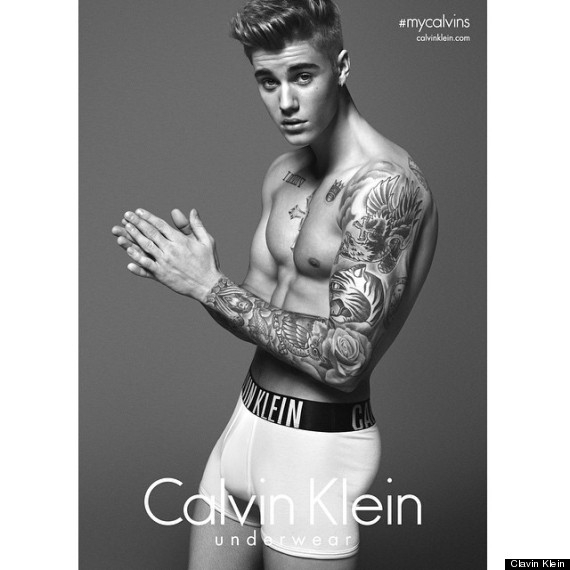 Justin Bieber as he appears in the Calvin Klein underwear ads
Gossip site BreatheHeavy.com claim to have got their hands on the pre-published (i.e. untouched) images of Biebs, which they say were emailed to them by someone close to the shoot.
As well as piling on extra pounds of pure muscle, the before and after images in the Gif below, clearly show the singer with bigger legs, arms, chest and (ahem) bulge.
.@JustinBieber's unretouched @CalvinKlein photo #BreatheHeavy #MyCalvins http://t.co/hJETJfD6Mw pic.twitter.com/HyAttsEdZT

— BreatheHeavy.com (@breatheheavycom) January 8, 2015
In fact, he appears to go from boy to man in the blink of an eye.
Furthermore, the source of the alleged original picture wasn't too impressed with JB's behaviour on the day of the shoot, particularly towards his co-star (and David Walliams' wife) Lara Stone.
"'He was basically a douche," the source said. "He hit on Laura [sic] several times and she had to stop him, basically calling him out on being just a child… Bieber specified [he] wanted to look 'taller and buff'. Bigger bulge implied.'"
Mission accomplished then. Well, almost.