Katy Perry has reportedly taken aim at Taylor Swift in a brand new track, which it's thought she could be debuting during her Super Bowl halftime performance next month.
SEE MORE:
Russell Brand: 'Katy Perry Is An Amazing Person'
Guy Recreates Pop Diva Photoshoots On Instagram And It's Brilliant
According to The Sun, Katy has written a new song, titled 'She's So Creepy', about her rival, in retaliation to a song which appeared on Taylor's most recent album.
During an interview in September, Taylor revealed that her song 'Bad Blood' was written about an unspecified popstar, who she claims "basically tried to sabotage an entire arena tour", adding simply: "We're straight-up enemies."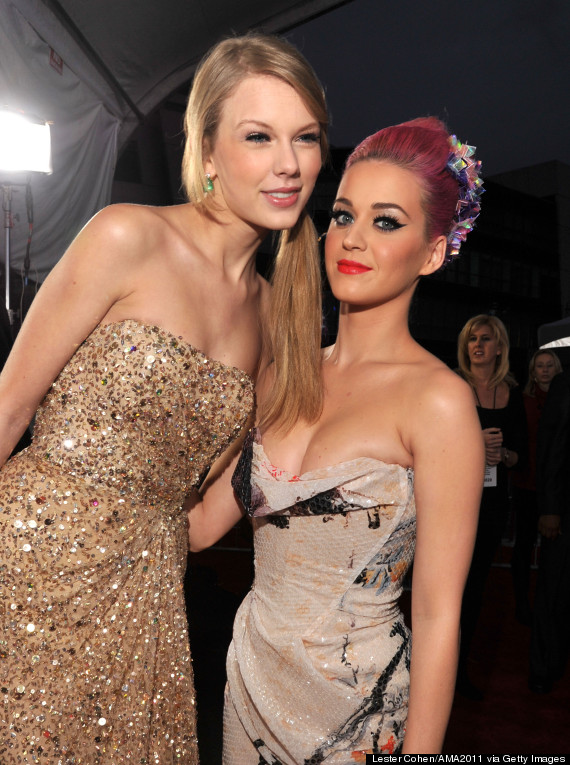 Taylor Swift and Katy Perry
The scathing lyrics to 'Bad Blood' read: "Did you think we'd be fine? / Still got scars on my back from your knife / So don't think it's in the past / These kind of wounds they last and they last."
Although she never confirmed who the song was about, Katy seemed pretty certain that she was the popstar in question, when she posted a cryptic tweet, appearing to compare Taylor to 'Mean Girls' Queen Bee Regina George.
Watch out for the Regina George in sheep's clothing…

— KATY PERRY (@katyperry) September 9, 2014
It's now been claimed that Katy has got her own back on Taylor, after the song 'She's So Creepy' has been officially registered, alongside other new tracks 'In Flames' and 'Heartache Crusader'.
Speculation first began brewing that 'Bad Blood' was written about Katy, when fans noted that some of the dancers on Taylor's 'Red' world tour had left to dance for Katy instead, with one dancer telling The Enquirer at the time: "[Taylor is] a great person to work with, but then Katy contacted us.
"We weren't really dancing in Taylor's tour anyway so I had got a little bored and I really wanted to do a promo tour."