Two online retailers have pulled fashion T-shirts featuring the suicide note of Nirvana frontman Kurt Cobain from sale.
The handwritten note was penned before the singer's death in 1994 and is addressed to his childhood imaginary friend Boddah.
It takes in his loss of enthusiasm for performing and his fears his daughter Frances Bean could become: "The miserable, self-destructive, death rocker that I've become."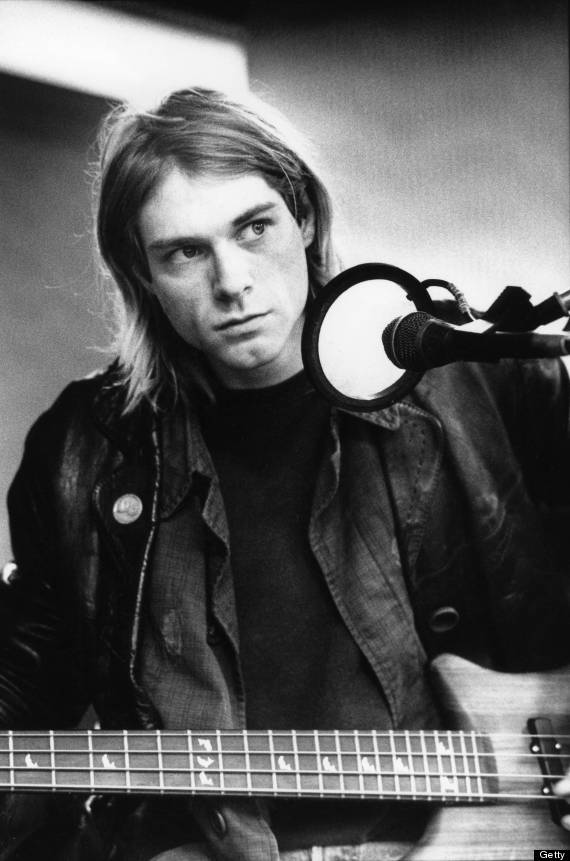 Kurt Cobain took his own life in 1994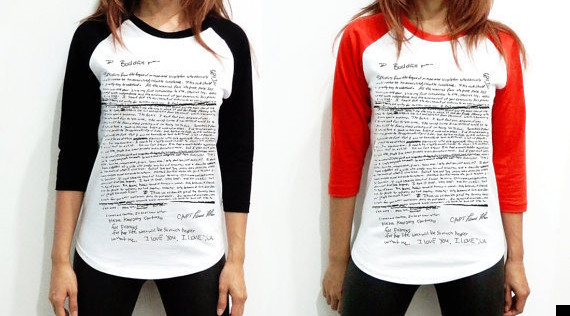 Some of the shirts, which have since been pulled
It signs off with the words: 'I LOVE YOU, I LOVE YOU!' to Frances and his widow Courtney Love.
The note, which was read out to his fans by a tearful Love following his death, was recently emblazoned on shirts on sale on eBay and Etsy.
A discussion on online forum Reddit branded the products "disrespectful", "just wrong" and "disturbing".
A Change.org petition was started by Julian Godinez, stating:
"This not only is a huge insult and slap to the face toward the legend Kurt Cobain himself, but as well as to all of his loved ones, his devoted fans, his legacy, and most importantly people around the world who currently suffer with mental illnesses of their own such as depression, anxiety and self image dysphoria.

"Mental illness and suicidal behavior is not a fashion statement, and it is not meant to be glamorized or flaunted about on a t-shirt.

"These shirts do nothing but encourage impressionable minds that these tendencies and behaviors are something to be displayed proudly or as some sort of cool status."
At time of press the petition had gathered more than 350 supporters and as of Wednesday, the items had been removed from sale.
Some voiced their disdain of the shirts on Twitter, pointing out retailers were essentially making money out of Cobain's death:
This is so disrespectful. Don't use Kurt Cobain's Suicide Note to get money. Suicide is NOT a fashion statement. pic.twitter.com/A5Z1OuSUBd

— The Help Hotline (@TheHelpHotline) January 11, 2015
People are printing Kurt Cobain's suicide note on t-shirts. Stop being disrespectful & making money out of him. pic.twitter.com/6kEHRRExUj

— lunatic fringe (@SeanIsSatan) January 14, 2015
kurt cobain was not diagnosed with a mental illness and leave a suicide note for it to be turned into a fashion trend pic.twitter.com/fzh7YRjg63

— Georgeeeee (@Georgemasters_) January 12, 2015
kurt cobain didnt die to become some cute tshirt at urban outfitters or have his suicide note written on mugs

— chloe (@trumnblck) January 11, 2015
Released in 1991, Nirvana's seminal album Nevermind sold 10 million copies. The band also enjoyed chart-topping success with In Utero, its final release before Cobain's death at the age of 27.
If you've been affected by the issues in this article, please call the Samaritans on 08457 90 90 90.
Here are some of our favorite Nirvana performances.