Singer-songwriter Sia has taken to Twitter to apologise, after her new 'Elastic Heart' music video, which stars Shia LaBeouf, was criticised by fans.
Shia stars alongside 12-year-old dancer Maddie Ziegler, who found fame on 'Dance Moms', and a number of people have slammed the singer, stating that the vid is inappropriate and has "peadophilia" connotations.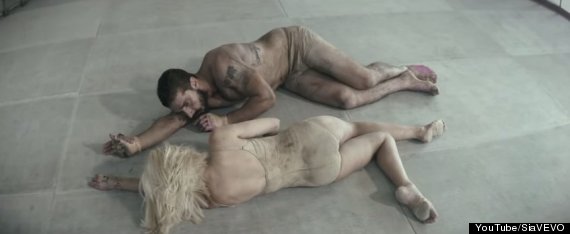 Shia and Maddie in the video
In the vid, Shia sports nude boxers, while Maddie wears a nude leotard. They are then seen wrestling and fighting in a cage.
A number of fans took to Twitter to discuss the video, with many questioning whether the clip has peadophillia connotations.
Just watched the Sia video of Maddie with Shia a grown man looks gross like they r groping each other ! Sickening!

— Rebecca McLaughlin (@rrebeccajomcla1) January 7, 2015
Does anyone else think the new Sia video is repulsive? A grown man dancing with a child in nude suits so they look naked. Gross.

— Jordy Sirkin (@JordyVix) January 7, 2015
The #ElasticHeart video would be magic if her dancing partner wasn't 30 years old, looked like a child predator and was a good dancer! @Sia

— Τερτίπια ! (@nefelhlvcu) January 7, 2015
Sia has now issued an apology, giving her reasons for the casting choice.
I anticipated some 'pedophelia!!!' Cries for this video. All I can say is Maddie and Shia are two of the only actors I felt could play

— sia (@Sia) January 8, 2015
These two warring 'sia' self states.

— sia (@Sia) January 8, 2015
I apologize to those who feel triggered by #ElasticHeart My intention was to create some emotional content, not to upset anybody.

— sia (@Sia) January 8, 2015
Ahead of the apology, a number of people defended the star:
If you think there's something paedophilia-like about Sia's video (I CAN'T EVEN), then you're the one sexualising a 12-year-old, not Sia.

— Josh Haigh (@joshcharles_21) January 8, 2015
I don't see any resemblance of paedophilia in the new @Sia video. Perhaps some people need to get their minds out of the gutter and move on.

— sam (@sammynopants) January 8, 2015
While Sia has released six studio albums of her own, she has also found fame through collaborating with some of the biggest names in music.
Sia co-wrote 'Titanium' with David Guetta, and she's also written tracks for the likes of Madonna, Kylie Minogue and Britney Spears.
Watch the 'Elastic Heart' video below…