This isn't the first time 'Made in Chelsea's Spencer Matthews has made women scream by being closer in his physical proximity than they might have expected.
But, this time giving these ladies (and some gentlemen) a fright is the actual intention of SW3's self-appointed Lothario, dressed up as a tomato to surprise the shop assistants in the Wandsworth branch of Sainsbury's.
And surprise them he does, which you can see in our video above – be honest, would you have reacted any differently to his sudden appearance?
Of course, the bigger story here is that Spencer, not usually known for his efforts at making the world a better place, is doing something for somebody else, because his antics are all in aid of Comic Relief's Red Nose Day, to be celebrated this year on Friday 13 March.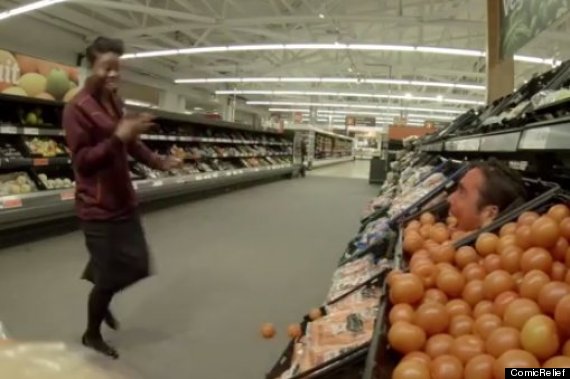 Even Spencer's blushing… but he gets his desired effect
And, to be fair to the well-spoken chap who can chat up someone else's girlfriend in at least three languages, he does give this his very best shot.
Sainsbury's will be selling a range of different Comic Relief noses in their stores, and you can click here to find out what else is being planned for this year's campaign.
Spencer in his more customary garb, plus his fellow Chelsea residents…