Ever wished you could get inside people's heads and find out what they really think of you?
Well, clearly Miley Cyrus did, and allowed her curiosity to get the better of her for a new sketch on Jimmy Kimmel's US talk show.
READ MORE:
While you might be used to seeing Miley shedding her clothes or confusing a sledgehammer for a Calippo ice lolly, the 'We Can't Stop' singer underwent a far more conservative makeover for the skit.
Posing as an Australian reporter, she took to the streets to ask people what they really thought of her, without them knowing they were actually speaking to the woman herself.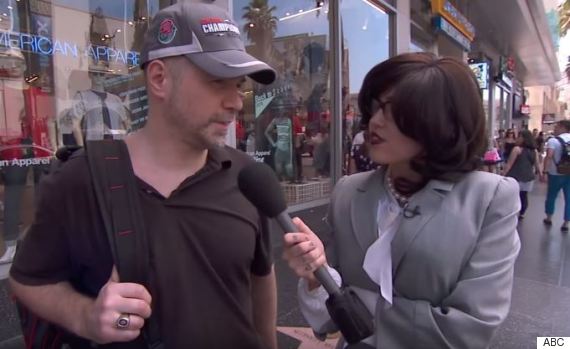 Miley… is that you?
Over the past few years, Miley has become one of the most controversial figures in popular culture, thanks to her on stage antics, her jaw-dropping outfits and frank opinions on sexuality and drug use – so it's fair to say people didn't hold back when asked for their thoughts.
We won't spoil it for you, but our particular favourite came when one of the interviewees told her straight: "I just like Taylor Swift better."
Ouch.
Watch the skit in full below:
Miley's appearance on Jimmy Kimmel's show was to promote her upcoming hosting stint at the MTV VMAs – the same awards show where she shocked the world with her collaborative performance with Robin Thicke two years earlier.
The VMAs are usually a controversy magnet, and this year that was the case weeks before the ceremony even took place, thanks to Taylor Swift inadvertently facing the wrath of Twitter when she involved herself in a discussion Nicki Minaj was posing over the nominations list.
— This feed and its contents are the property of The Huffington Post, and use is subject to our terms. It may be used for personal consumption, but may not be distributed on a website.