Paul Bettany says that the biggest lesson he's learned from his close friend Johnny Depp is "not to give a shit".
Paul, who co-stars for the third time with Johnny in 'Mortdecai', tells HuffPostUK why he thinks his friend is so incredibly healthy:
"He doesn't give a shit, he really doesn't.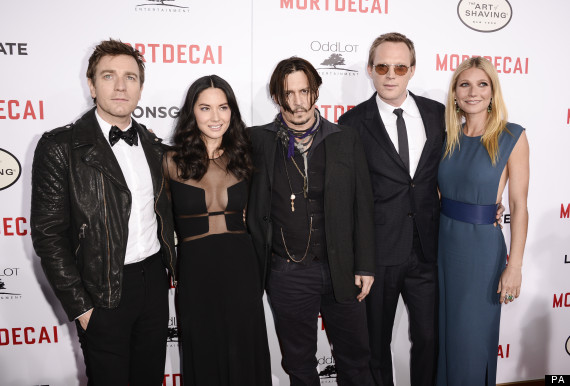 Johnny Depp's attitude is much admired by his close friend Paul Bettany, here with the rest of the 'Mortdecai' cast
"He's never read a review in his life, he loves the making of the movie, but he doesn't watch the movies. He absolutely doesn't care about what a critic might think.
"He's a whale swimming through the ocean, and a whale doesn't notice the barnacles on him. He's like, fuck that. I'm swimming through the ocean, doing my thing.
"That's what's mysterious about him, he really likes his privacy, and genuinely doesn't need the adoration, which is probably why the adoration has come to him."
Paul, who previously starred in 'The Tourist' and 'Transcendence' alongside Johnny, is thrilled to have the chance to put his comedic acting chops on display in Mortdecai, after Johnny introduced him to the series of books written by Kyril Bonfiglioli.
"We've laughed our way through three movies together," says Paul, "but we'd never had the chance to put that on screen.
"I've never got to do much comedy, and he brought the books to me, and they're naughty and irreverent, some of the stuff is totally shocking, it's like Jeeves and Wooster but a punk acid version."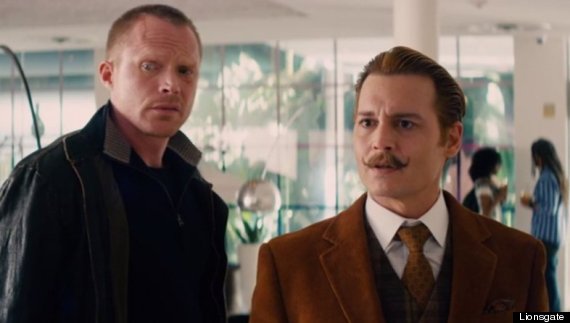 Jock Strapp is a loyal and abiding manservant/chauffer/everything to Mortdecai
In 'Mortdecai', Paul plays the central character's long-suffering butler/chauffeur/standover man Strapp, complete with a black leather jacket, a handy right fist, an unwavering gaze and a tireless interest in, and appeal for, the fairer sex. Paul chuckles when I ask him where he got his inspiration…
"I wanted him to look like a villain from the 1970s, and also… Johnny's two British security guards," he reveals.
"Jerry and Malcolm, who I've known as long as I've known Johnny. My character Jock Strapp is impervious to pain, will literally jump in front of a bullet and save you every time, and Jerry and Malcolm are those characters."
And do Jerry and Malcolm realise they were the inspiration for this sexy, loyal manservant?
Paul looks at my recorder on the table. "Well, they will now."
'Mortdecai' is in UK cinemas from today. Watch the featurette below…
(function(){var src_url="https://spshared.5min.com/Scripts/PlayerSeed.js?playList=518603783&height=381&width=570&sid=577&origin=SOLR&videoGroupID=155847&relatedNumOfResults=100&responsive=false&relatedMode=2&relatedBottomHeight=60&companionPos=&hasCompanion=false&autoStart=false&colorPallet=%23FFEB00&videoControlDisplayColor=%23191919&shuffle=0&isAP=1&onVideoDataLoaded=HPTrack.Vid.DL&onTimeUpdate=HPTrack.Vid.TC";if (typeof(commercial_video) == "object") {src_url += "&siteSection="+commercial_video.site_and_category;if (commercial_video.package) {src_url += "&sponsorship="+commercial_video.package;}}var script = document.createElement("script");script.src = src_url;script.async = true;var placeholder = document.querySelector(".js-fivemin-script");placeholder.parentElement.replaceChild(script, placeholder);})();