Bill Roache has paid tribute to his 'Coronation Street' co-star Anne Kirkbride with a speech at the NTAs.
READ MORE:
Amanda Holden Gets The Tube To The NTAs After Getting Caught Up In Traffic
Anne, who played alongside Bill in 'Corrie' for over 40 years, died on Monday night, with the set of the ITV soap closing down on Tuesday as a mark of respect.
The cast appeared together at the ceremony on Wednesday night, with host Dermot O'Leary saying: "We know you're going through a difficult time, but on behalf of everyone, we're delighted that you've come."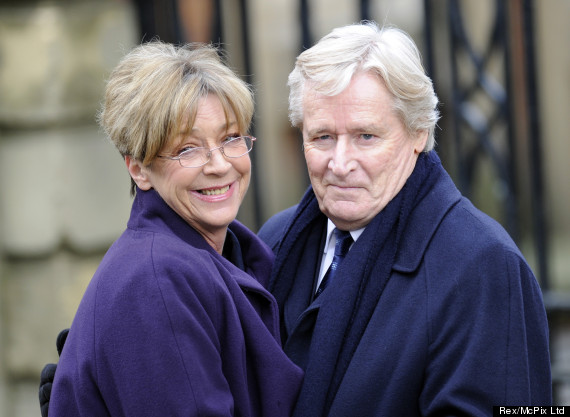 Bill and Anne, in character as Ken and Deirdre
Later in the evening, Bill – who plays Anne's 'Corrie' husband, Ken Barlow – took to the stage to pay tribute to Anne.
In an emotional speech, he said: "For over 40 years, our dear friend Anne Kirkbride played the part of Deirdre, and became one of the best loved stars on TV.
"With her husky voice and trademark spectacles, the nation took Deirdre to their hearts. As Ken and Deirdre, we felt we'd met our soulmates – and no matter what was thrown at us – Deirdre's false or imprisonment or the love triangle with Mike Baldwin – we always found each other."
Addressing 'Corrie' fans directly, he said: "On behalf of Anne's 'Coronation Street' family, we have been deeply touched for the outpouring of love for Anne. We share your grief and sadness in losing such a beautiful person, who will be greatly missed by us all. I love you, Anne."
It was revealed this week that 'Corrie' writers were planning to "take time" to deal with Anne's death within the soap.