US company CBS Films has come under fire after the DVD cover for 'Pride' was heavily edited to remove all references to homosexuality before its release in the USA.
It's hard to tell if they're really stupid enough to think a movie named 'Pride' wouldn't be about gay rights unless there was a lion on the cover or something, but it seems that didn't stop the editors at CBS from trying to make it a bit less gay.
The film follows the story of Lesbian, Gay, Bisexual and Transgender activists who supported a small Welsh village during the miners' strikes in the 1980s.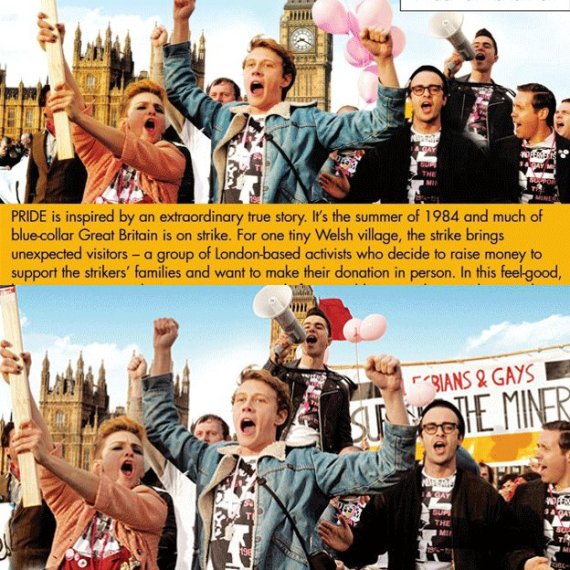 Time to play 'Spot The Difference'…
The entire synopsis of the film even manages to completely omit any mention of sexuality, with tweeters such as @SorenHough accusing the US film company of "straightwashing" the movie.
It's the summer of 1984 and much of blue-collar Great Britain is on strike. For one tiny Welsh village, the strike brings unexpected visitors – a group of London-based activists who decide to raise money to support strikers' families and want to make their donations in person. In this feel-good, heart-warming comedy, two groups seemingly from worlds apart, discover that standing together makes for the strongest union of all.
This is a heavily edited version of the blurb appearing on the UK edition, providing more context while removing any potential tip-off to the film's main theme.
The image on the DVD cover has also been altered to remove a banner which reads 'Lesbians & Gays support the miners'.
Following negative media coverage, CBS Films told Pink News: "We're looking into this now."
Ben Roberts, director of the BFI film fund, told the BBC: "I'm not surprised that the US distributors have taken a decision to sell more copies by watering down the gay content.
"I'm not defending it, it's wrong and outmoded, but I'm not surprised.
"It's an unfortunate commercial reality both here and in the US that distributors have to deal with and consider in getting films onto the shop shelf.
"LGBT material is largely marginalised outside of rare hits like Brokeback Mountain."