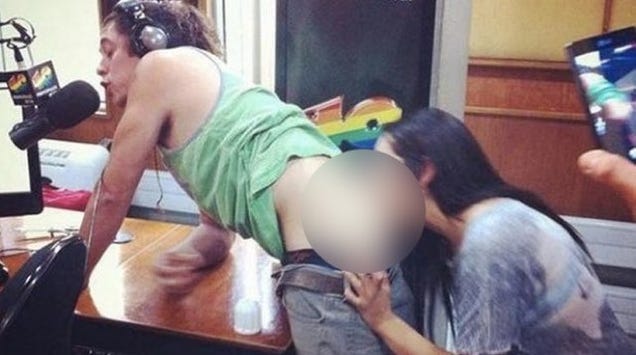 Radio listeners were asked what they would do to win tickets to a music festival things got a little out of hand.
What ended up happening was Radio DJ Paul Hip having whipped cream licked from between his buttocks by a young woman intent on attending the Mysteryland dance music festival.
DJ Hip then proceeded to invite listeners of the Chilean radio station to kiss this 'lucky' winner.
The picture was tweeted by the show's production team and before long, it went viral over Twitter causing no small amount of controversy.
The radio station, 40 Principales, have since issued an apology for incident occurring live on air.
MORE: Martial arts expert delivers impressive spinning kick to arcade punching machine
MORE: Exploding fish tank saves family from house fire
MORE: The social media accounts for The Interview have been closed down
According to El Desconcierto, the stations statement apologised saying: 'We are sorry for our mistake on accepting that challenge.
'We hope that you understand that this was during a playful context and there wasn't bad intentions, and intention to offend or denigrate our audience.'