What is an entrepeneur?
Well, according to one of the self-assured characters in intimate PBS documentary 'Start Up Kids', it's "a person who dares to have a dream that not that many people have, and dares to chase it, put their money where their money is, and dares to go out there and realise that vision".
Feeling a bit average yet? Try watching this jaw-dropping exploration of a catalogue of youngsters, pretty much all under or around 25, demonstrating how their youth has helped them take advantage of the internet and all the success – creative, visionary, deeply financial – it has to offer.
"When you're young, you have so much less to lose," explains one. "We're less affected," explains another.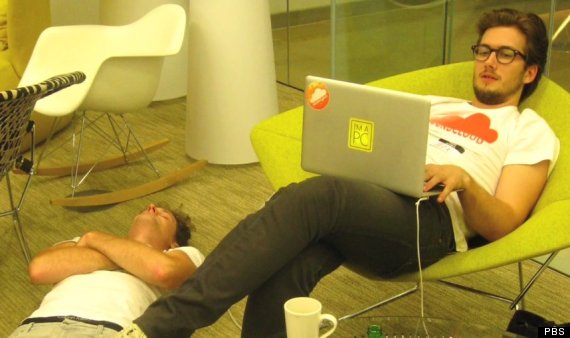 Eating, dancing, sleeping and coding… the unglamorous but auspicious beginnings of SoundCloud
One such character recently raised $4.3million to fund his website. He was 19. "My parents thought I was addicted to my computer and threatened to take it away from me," he explains. "I'm glad they didn't." And I bet they are too, as they keep one eye on how other teenagers spend their time, and another eye on the dodged bullet of college fees.
This hour-long doc, with its catalogue of self-assured self-starters could be thoroughly obnoxious, with the subjects' lack of self-doubt or any apparent sense of possible failure.
Two things make it instead, strangely comforting, to watch these prodigies in action. The first is that, as they describe a world of dancing, clubbing, sleeping, coding and working, working working, it's clear they've earned whatever riches come their way. "I took the day off and then I realised the only thing I wanted to do was work," admits one. Should he get a life, or is he living a very happy one? I think probably the latter.
The second, and perhaps more significant, aspect is that, whatever next Kim Kardashian or Brandi-something comes along, it is really these protagonists, and more like them, who will end up running the world. So it's reassuring to see that they're all so clued up, AND how unassuming. While we've all been busy looking at self-important reality stars, this meek, young lot have been busy inheriting the earth.
'Start Up Kids' premieres tonight on PBS, available on Virgin Media, which provides access to up to 260+ channels including PBS, Freeview Channels, Virgin Movies, Sky Movies and Netflix. Watch the trailer below…