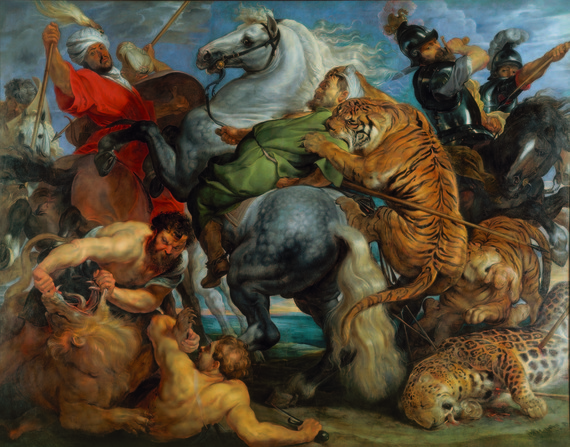 If you are planning to visit the new Rubens and His Legacy exhibition at the Royal Academy, be warned now – there are very few paintings from Rubens on show. Instead this exhibition looks to examine the influence and legacy of this great painter on artists from the period right up to the present day.
The name 'Rubens' may be in the title of the exhibition but I counted maybe only about a dozen works from Rubens actually on show. Maybe a few more. What few Rubens works there are though are incredibly impressive.
Tiger, Lion and Leopard Hunt is an extraordinary piece of work. The piece is full of energy and dynamism as the animals and hunters launch at each other with ferocity – the ultimate battle for survival between these two packs of hunters. There is such a strong sense of chaos, fear and violence in the picture. It's phenomenal.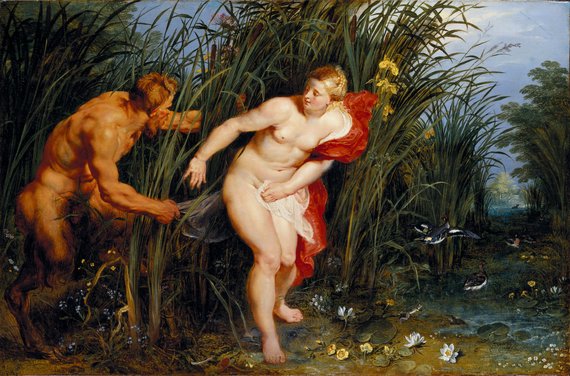 And like all the Rubens works on show, it is hung in a room filled with paintings from other artists on a similar theme – here, Delacroix and Landseer. Though interesting, the other works seem limp by comparison. Maybe that was intentional – putting all the flattery on Rubens – but it does make for a muddling quality of works for an exhibition.
That gulf is particularly acute in the section that looks at Rubens' portraits. One of my favourites, the towering portrait of Maria Grimaldi and Her Dwarf is full of contrasts – the aristocratic woman looks so rested, so wealthy, and her skin peachy and glowing compared to the haggard lines and red eyes of her exhausted servant.
But the portraits from Sir Joshua Reynolds that surround it aren't anywhere near as engaging. The focus of this section is meant to be 'Elegance' (the exhibition is hung thematically) but that's such a generic term – after all, there was plenty of elegant portraits in the RA's own Moroni exhibition from last year. And the impact just seems to make you wistful for the Rembrandt exhibition at the National Gallery, where the portraits were extraordinary.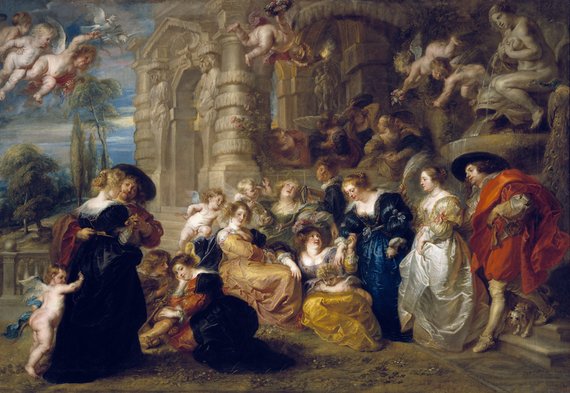 And then there is the absence of key works.
The Fall of the Damned is referenced heavily in the exhibition, and indeed there is one preparatory sketch for this awesome piece of work in the galleries. And the drawing is wonderful. A waterfall, a rushing flood, of tangled, heaving bodies tumble across the page. A terrifying scene of terrified faces trying to escape the eternal fire.
It's a stunning piece of work and it has evidently been a huge influence on Jan Boeckhorst and Pieter Claesz Soutman, whose own works hang nearby. Given the focus on the legacy of this seminal painting from Rubens, it's a shame the original wasn't released for inclusion in the show.
Certainly the overall impression is that the content of the exhibition has been spread very thin – making the most of what seems to be a very small pool of Rubens' works released for this show.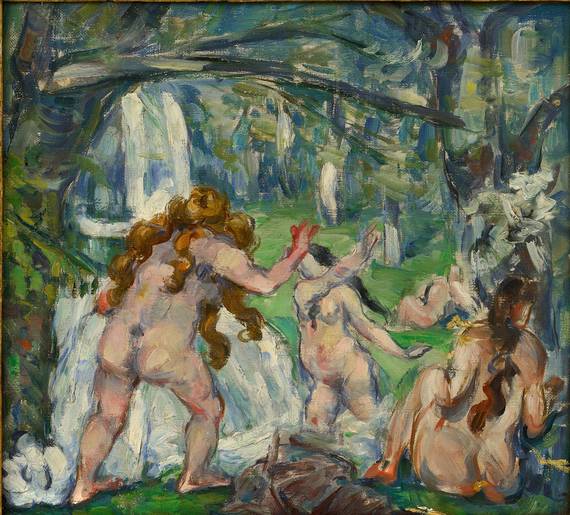 Which may explain the rather unexpected and surprising room of contemporary art curated by Jenny Saville that is included. Not a single Rubens in the room – instead work from Picasso to Cecily Brown, from Cy Twombly to Lucian Freud, have been brought together on the premise that they have been influenced by Rubens in some way.
Now, I loved this room. I thought it was bold and exciting. The question is, what does a De Kooning, some Picassos and an Andy Warhol have to do with Rubens? The answer, I feel, is not a lot.
The Andy Warhol of Jackie Kennedy is there, I think, as a representative of some modern Pieta, but Rubens didn't create the Pieta. Nor did he create the nude and few of the nudes in the room were particularly Rubenesque.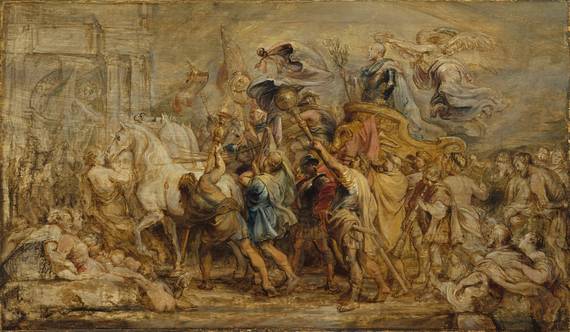 Rubens' nudes were fleshy, passive, idealised creatures with perfect shimmering complexions and pert breasts. That depiction is about as far away as you can get from Jenny Saville's and Lucien Freud's nudes so again, I wasn't really sure on the link – unless these were to be seen as deliberate rejections o this form of nude..
A notable exception was the stunning new work from Jenny Saville herself that is on show in the room. Two heads sit on top of a mass of intertwined thrusting bodies, a depiction that reminded me of Fall of the Damned, but that only in turn again emphasised the loss of not actually having that great Rubens painting on show.
And all of this leads me to my main conundrum.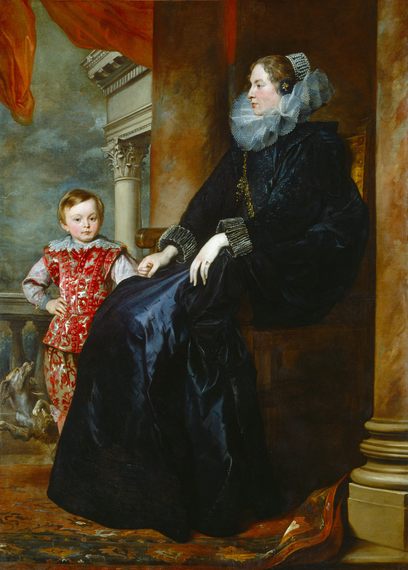 Did I actually enjoy the exhibition? Well yes, in as much as I would enjoy walking through the rooms of any major art gallery which has its walls covered with Cezannes, Picassos, Renoirs, Turners, Van Dycks, Constables, Freuds, a couple of Warhols and Bacons, and a few Rubens thrown in for good measure. But as a cohesive, coherent exhibition on Rubens, I'm not sure this exhibition made its point.
It's worth the price of admission just to see those few Rubens paintings on show. It's just a shame there weren't more of them.
Image Credits:
1. Peter Paul Rubens Tiger, Lion and Leopard Hunt, 1616 Oil on canvas, 256 x 324.5 cm Rennes, Musee des Beaux Arts Photo c. MBA, Rennes, Dist. RMN-Grand Palais / Adelaide Beaudoin
2. Peter Paul Rubens Pan and Syrinx, 1617 Oil on panel, 40 x 61 cm Museumslandschaft Hessen Kassel, Gemaeldegalerie Alte Meister, Kassel Photo: Museumslandschaft Hessen Kassel, Gemaeldegalerie Alte Meister/Ute Brunzel
3. Peter Paul Rubens The Garden of Love, c. 1633 Oil on canvas, 199 x 286 cm Museo Nacional del Prado. Madrid Photo c. Madrid, Museo Nacional del Prado
4. Paul Cezanne Three Bathers, c. 1875 Oil on canvas, 30.5 x 33 cm Private Collection Photo: Ali Elai, Camerarts
5. Peter Paul Rubens The Triumph of Henri IV, 1630 Oil on panel, 49.5 x 83.5 cm Lent by The Metropolitan Museum of Art, Rogers Fund, 1942 (42.187) Photo c. 2013. Image copyright The Metropolitan Museum of Art / Art Resource / Scala, Florence
6. Sir Anthony Van Dyck A Genoese Noblewoman and Her Son, c. 1626 Oil on canvas, 191.5 x 139.5 cm National Gallery of Art, Washington, Widener Collection, 1942.9.91 Photo Courtesy National Gallery of Art, Washington