Taylor Swift may have conquered the charts this year, but there's one place her name won't be headlining, according to her pal Ed Sheeran, and that's Glastonbury.
READ ALSO:
First Brits 2015 Performers Confirmed
WATCH: Taylor Overwhelmed By Soul Legend's Birthday Serenade
Despite Taylor's name appearing on many people's wish list for this year's premier music festival in Somerset, Ed claims Taylor will never put her name forward to headline the prestigious gig, and for a very good reason… simply, that she likes to be in control.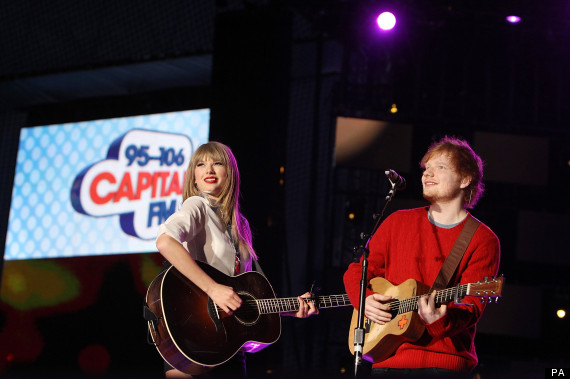 Taylor performing with Ed at the Capital Radio Summertime Ball in June
The Sun reports Ed revealing: "I'd bet you a large amount of money she doesn't – a large amount of money.
"Taylor doesn't like festivals.
"So for any bookies reading… I think Taylor likes doing her own show because she's in control and it's how she wants it to be.
"With Glastonbury or any festival, you're at the mercy of the people who run the festival.
"She wants it all to be perfect."
If true, this will disappoint festival organiser Michael Eavis, reportedly keen to sign up Taylor, following fellow country star Dolly Parton's triumph at this year's event. And keen-eyed fans have spotted a gap in Taylor's summer schedule, for exactly the Glastonbury dates.
Would you like to see Taylor headlining down in Somerset? Share your thoughts below…
However, Ed's probably pretty well-placed to speculate on Taylor's inner thoughts. As well as writing and performing together frequently over the past few years, he reportedly took credit for fixing her up with short-term love Harry Styles, following her romances with Jake Gyllenhaal, Taylor Lautner and John Mayer. Ed's current best idea is that she should date his pal Orlando Bloom. Is it just us, or is this turning into the script for a John Hughes-esque film…
So that's one of these Glasto 'rumours' dispelled then. What of the others? See below…