In recent years, even the most ardent meat-lovers would find it hard to ignore the rise of veganism. The most recent research estimates that 6% of Americans now follow a vegan diet — a staggering increase of 600% in just three years.
While the idea that vegans just eat salad prevails among some, the notion that you can eat healthily and deliciously without animal products is catching on. The Big Apple is a great place to discover how versatile a vegan diet can be. From exclusively plant-based menus to mock-meat meals that will astound, here are a few of the best vegan restaurants in NYC.
JAJAJA PLANTAS MEXICANAS
If you're of the belief that tacos without meat — or at the very least copious amounts of cheese — sound rather sad, you need to visit Jajaja Plantas Mexicanas. Perched above a subway entrance in Chinatown, the food at this 100% vegan Mexican restaurant is genuinely mind-blowing, and eating here is just as fun as the name suggests.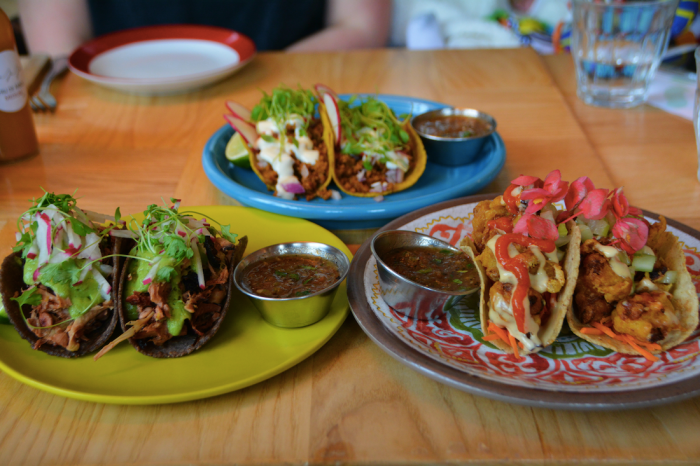 While there's undeniably a trend these days for faux meats, the menu at Jajaja steers away from that, instead focusing on plant-based dishes and fresh, natural ingredients. The menu is as colourful as it is innovative, and if you're wavering over what to choose, the friendly staff will point you in the right direction. The enchiladas mole, stuffed with tender jackfruit, guajillo chillies, chipotle peppers and smothered in a rich, earthy mole sauce with vegan sour cream, was a sublime fiesta of flavour.
Best are the "chorizo" tacos, served on turmeric tortillas and stuffed with crisp radishes, red pepper, onion, vegan sour cream and seitan chorizo, which looks and tastes just like spicy ground pork. Seriously divine. Also great are the palm carnitas tacos with hearts of palm, pulled jackfruit, salsa verde and greens; the mezcal mushroom tacos with cashew cotija, bell pepper, red cabbage and pico de gallo; and chipotle sweet potato. Go now, before it's impossible to get a table.
MODERN LOVE BROOKLYN
Across the East River there are just as many excellent vegan eateries as in Manhattan, but the place that impressed me most was Modern Love Brooklyn in Williamsburg, a 100% vegan restaurant that serves up classic food with a modern twist. The menu is the perfect balance of light, 'pure' vegetable-based dishes and creamy, stodgier treats; if you think vegan food can't be decadent, you haven't visited Modern Love.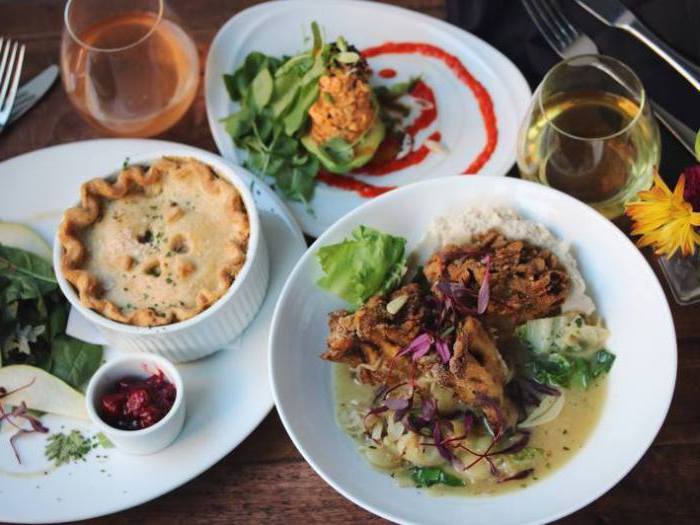 Try the five-spice BBQ cauliflower wings, with homemade kimchi, spicy mayo, scallions and black sesame adding a harmonising kick of flavour to the warm, toasty cauliflower. If you've never tried seitan, the protein-packed wheat-meat vegans love, go for the chops and applesauce. Cooked til crisp, there's a satisfying crunch when you bite into the rosemary breaded chops. It's complemented by pink applesauce, seared Brussels sprouts and sweet potato mash.
The creamy red pepper cashew macaroni is perfectly offset by blackened cauliflower, sautéed kale, and crusted tofu; rich, velvety and piquant, it's incredibly moreish. At this point we were almost uncomfortably full, but I'd heard incredible things about the desserts. The coconut cream pie, with candied lime, toasted coconut and a liberal helping of caramel sauce, was divine.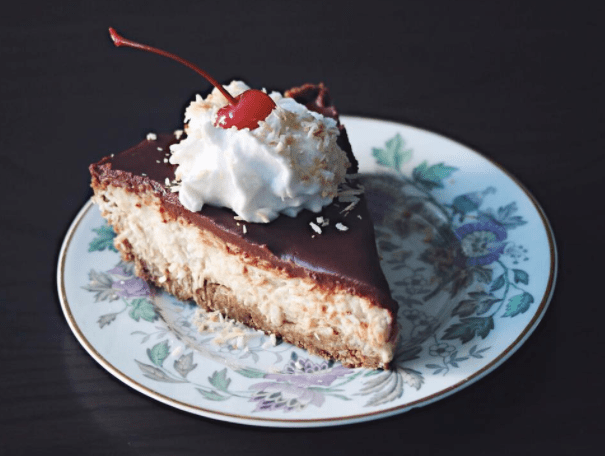 AVANT GARDEN
Vegan restaurants can be split into roughly two camps; those that use imitation meats, and those that don't. Avant Garden in the East Village is firmly in the latter camp, and the menu is split into three sections: toast, cold and hot. We began with the toasts, although the simple name belies just how delectable these dishes are. Thick slabs of fresh bread are toasted and smothered with vegetables in all different forms.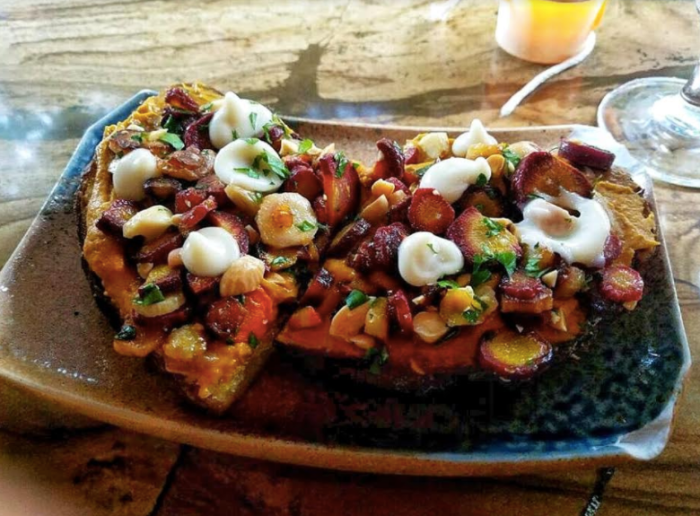 Choose from the romesco toast, where carrot, piquillo, marona almond and garlic purée are spread atop a doorstep-thick slice; the artichoke toast, which is topped with creamy-yet-zingy spinach and artichoke purée, cashews, jicama and black truffle vinaigrette; or the cremini mushroom with sweet onion marmalade, toasted walnuts, grapes and herbs de Provence.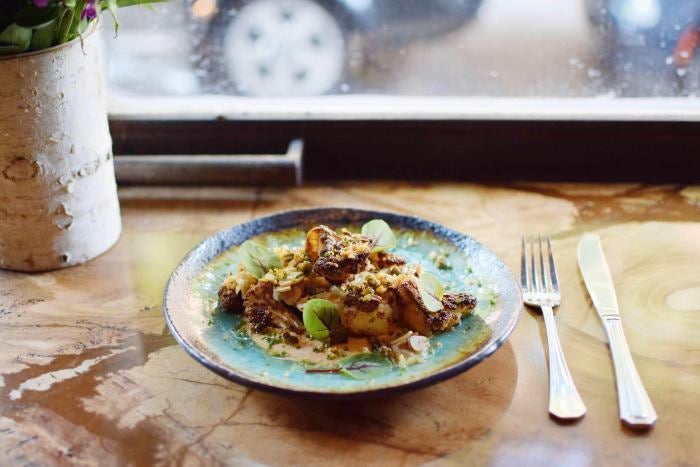 The cold menu features dishes put together with painstaking detail; I loved the avocado with carrot ginger dressing, crispy rice, miso glaze and blistered shishito. The scorched cauliflower, with toasted garlic, fried capers and cauliflower purée, had an enticing nutty taste, but even better was the broccoli in a sticky sauce with cashews, sweet potato, bok choy and snow peas. Never again will I doubt the power of pure vegetables.
RED BAMBOO
On the other end of the vegan spectrum is Red Bamboo, a restaurant in the West Village that I visit every time I'm in the city. Serving up a mouthwatering range of vegan comfort food since its opening in 2002, it's the place to take people who assume a vegan diet is all about salads and healthy eating.
If you think you don't like mock meats, Red Bamboo will change your mind; the soy protein here is made in-house, and it's easily the best I've tried. Some of the best starters include the succulent Caribbean jerk-spiced seitan – grilled seitan skewers marinated in a spiced lime-citrus dressing – and the Creole soul chicken – soy "chicken nuggets" panko-breaded with Cajun and rosemary seasoning, then fried and served with smoky hickory dressing.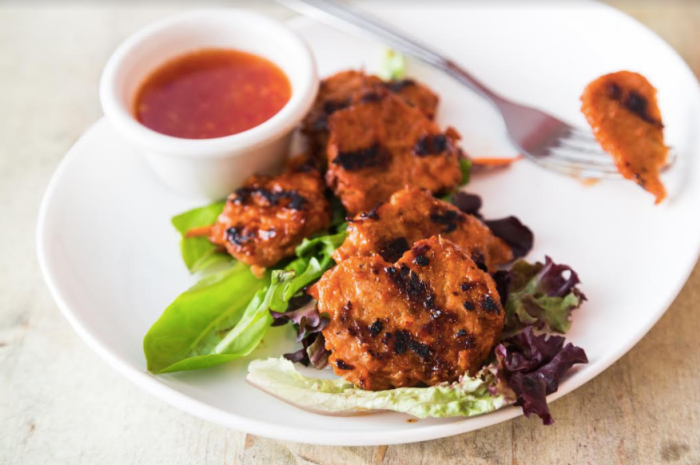 Best of all are the barbecue buffalo wings: tantalisingly tender soy wings marinated in a spiced citrus BBQ sauce, served with vegan sesame ranch dressing and celery sticks. People can be sniffy about mock meats, but I don't know anyone who stopped eating meat because they didn't like the taste. At Red Bamboo vegans can indulge with a clear conscience.
As a relatively new convert to the vegan movement, I was blown away by the quality and variety of vegan food available in NYC. A vegetarian for over a decade, the idea that I put off going vegan because I thought the food would be too restrictive now seems absurd. Whether you're vegan or just want to cut back on your animal produce, these restaurants are a great place to start.
Selene Nelson is a U.K.-based journalist who is travelling the world andreporting on her experiences.
This article first appeared on Food Republic.