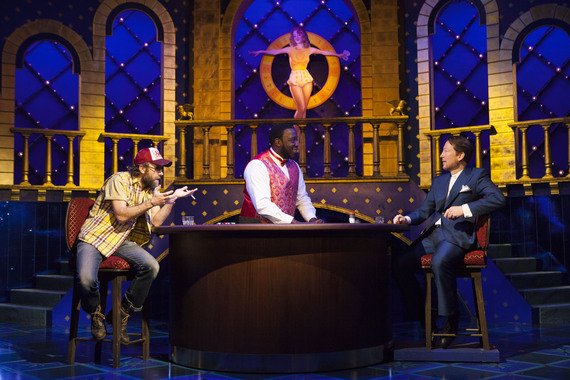 Shakespeare's classic tale becomes The Merchant of the Venetian as director Rupert Goold replaces the play's traditional setting of Venice with the casino floors and glitzy lights of Las Vegas, complete with Elvis impersonators, Vegas showgirls and even Cirque de Soleil-style gymnasts.
The bright lights of The Strip makes for a heady and pertinent setting in this version that brings to the fore the themes of greed, desire and alienation.
Ian McDiarmid plays the villainous Shylock with a lot of glee. Sometimes I find his performances a bit much but here he just about reins it in enough to allow us to sympathise with him as the grief at the loss of his daughter, Jessica (a lovely performance from Caroline Martin) quickly turns to anger, feeding thoughts of revenge. His Shylock is evil, yes, but also pitiable.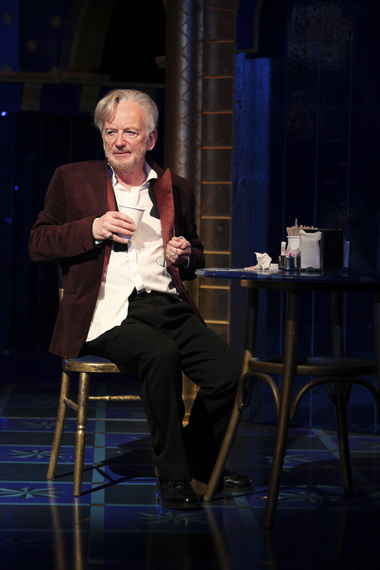 How any production of The Merchant of Venice handles the anti-Semitism in the text is always interesting. Rupert Goold has absolutely not shied away from it at all. The anti-Semitic abuse spat out at Shylock is practically palpable in its vehemence.
For me, that works well in this contemporary setting. The speed with which the other characters' hatred of Shylock is manifested in their racism is an uncomfortable reflection on racism in our society today, and one that we must examine.
But there are other themes brought out in this production too that fascinate.
Scott Handy impresses with his quite heartbreakingly tender portrayal of Antonio, the one who seals the bloody pact with Shylock, offering up a pound of his flesh so that his friend Bassanio has the money to woo the heiress, Portia.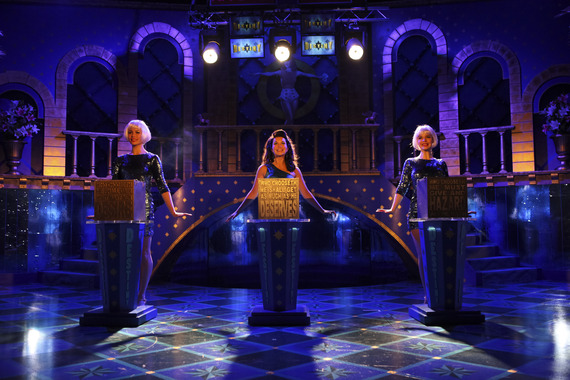 Rupert Goold's direction really exploits the ambiguity in the text, portraying Antonio as a man in love with Bassanio, a love that you sense is not reciprocated in the way that Antonio wants. And so Antonio's sacrifice for Bassanio hits home that little bit more when you sense that it was made for unrequited love.
This tragedy is offset beautifully by the comedy employed in Portia's handling of her many suitors. Here, Portia's love life has been reduced to a television show where contestants line up to unravel a puzzle in order to win her hand in marriage – and the money that comes with her.
Susannah Fielding's portrayal of Portia is terrific – funny but full of complexity for even here, the comedy has a dark, tragic undertone. Portia's powerlessness is evident and, like much in Vegas, the value of her soul is irrelevant in a world that values her only by her looks and her money.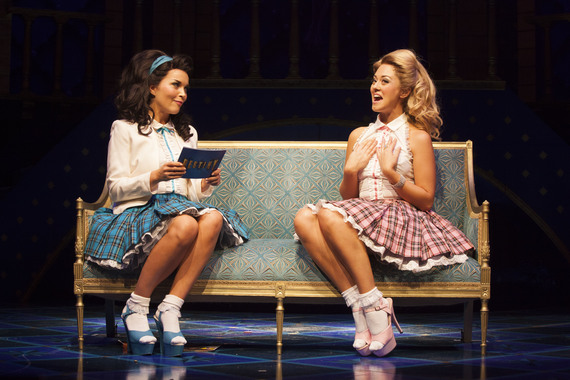 It's this dark side to Rupert Goold's production that fascinates. Even at the end, when all is supposedly remedied for the best, you sense a devastation and scars that will never heal across all the characters in the play. Like the city they're standing in, things only look good on the surface.
The design comes courtesy of Tom Scutt and it is both stunning and clever. There are all the slot machines and croupier tables that you'd expect but there's also a nice Rialto Bridge-style effect to the staircases down to the casino floor and the constant message of consumerist greed is pumped home with 24-hour shopping channel-style television shows running on silent on screens in the corners of the auditorium.
On the surface, transporting the play to Vegas seems a revolutionary approach. And it is. But in fact it's an inspired one that shows great reverence for the text and its themes. And like all great Shakespeare productions, this version at the Almeida is a terrific blend of drama, tragedy, comedy and music.
The Merchant of Venice, Almeida Theatre to February 14, 2015
Image Credits:
1. Tim Steed, Raphael Sowole and Scott Handy by Ellie Kurttz
2. Ian McDiarmid by Ellie Kurttz
3. Merry Holden, Emily Plumtree and Rebecca Brewer by Ellie Kurttz
4. Emily Plumtree and Susannah Fielding by Ellie Kurttz