Move over Oprah – here come the BookTubers
YouTube might not be the first place you go for that most low-tech form of entertainment: reading. And yet, YouTube has become the unlikely hero of a reading renaissance, thanks to the BookTubing phenomenon.
BookTubers are readers who share their love for the written page through video blogs. They represent the latest step in the process of socialisation of the reading experience and, in this sense, can be seen as an evolution of the good-old-fashioned book-club. The concept has had a few technological revamps throughout the years – think of TV book clubs and, more recently, book blogging. But unlike TV, where the communication is very much one way, and bloggers, who tend to work independently from each other, BookTubing has brought a whole new dimension: interconnectivity.
The BookTube community is exactly that: a community. BookTubers constantly interact with each other and with their followers, asking for opinions and canvassing them for suggestions. They operate in cross-country networks, organising 'readathons', book tags, reading challenges, live shows, themed months and so on.
A Young Adult phenomenon
Unsurprisingly, the Young Adult crowd dominates the scene. Not just because the new generation is better versed in the art of social media, but also because YA fans are some of the most engaged readers out there. Peter Bradshaw puts it best when analysing the impact YA has had on Hollywood: 'these fanbases are formidably loyal, intelligent, opinionated, with a sense of self and identity; the product driven by social media. The authors reach out to the fans through Twitter; the fans amass considerable followings of their own; they go on fan-fiction sites, self-publish and some become players themselves.'
Because of all this, YA BookTubers have become powerful opinion-leaders. When they speak, the industry listens. So, with the new year still in its infancy, I've asked 3 BookTubers for their 5 most anticipated YA titles of 2015.
What does 2015 hold?
The contemporary genre, a cornerstone of YA literature, is still a strong contender for shelf space, especially with titles exploring the darker themes of mental illness and existential anxiety, such as I Was Here by Gayle Forman and All the Bright Places by Jennifer Niven. There's also much excitement around fantasy, and interestingly, in a segment crowded with trilogies and series, An Ember in the Ashes by Sabaa Tahir is creating a lot of buzz for being a stand-alone. Of course, authors with successful series can still leverage their established fan bases, as testified chiefly by A Court of Thorns and Roses by Sarah J. Maas. Finally, despite all the hype about dystopian being dead, there still seems to be appetite for the genre, as shown by titles such as Red Queen by Victoria Aveyard, The Heir by Kiera Cass and Salt & Stone by Victoria Scott.
The thoughts of JesseTheReader (US), Megan Olivier (UK) and Dylan Books (Australia) are detailed below:
JesseTheReader. Missouri, USA.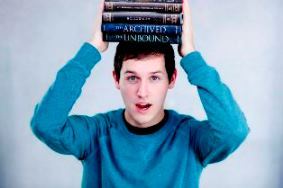 Jesse George is a twenty-two year old book lover who's been making BookTube vlogs since 2012. When he's not reading, he's filming videos, taking pictures, and tweeting about books. To visit Jesse's channel, click here.
The YA genre that currently has me under its spell is fantasy. I wasn't a huge fantasy reader when I joined the BookTube community, but last year I started to dive into this genre and realized how brilliant it is. I picked up books like The Warrior Heir by Cinda Williams Chima, The Mortal Instruments series by Cassandra Clare, and the Percy Jackson and the Olympians series by Rick Riordan. There are endless possibilities when it comes to fantasy and that's what has me wanting more.
My 5 most anticipated YA books of 2015 are:
1. Inked by Eric Smith
The minute I found out about this book, I wanted to get my hands on it. The concept of the story had me sold – a world in which tattoos were once an act of rebellion, but where they now choose your destiny. It sounds fascinating and I can't wait to dive into it!
2. Red Queen by Victoria Aveyard
I'm going to be honest here, I wanted this book the second I saw the cover. It's stunning! Then I read the book's premise, and I instantly moved it up on my list of most anticipated releases: in a world in which Red-blood people serve the superhuman Silver-bloods, a Red-blood girl discovers to have powers of her own. It's a fantasy book with dystopian elements to it. Two of my favorite genres coming together? Yes please!
3. An Ember in the Ashes by Sabaa Tahir
It's the story of an orphan girl fighting in a Rome-like empire to save her brother. This book has received quite a bit of hype from the BookTube community, which has me pumped to dive into the story. What had me wanting this book was the fact that it's a YA fantasy stand-alone, which is pretty unheard of these days. We have several YA fantasy trilogies and series and hardly ever do I hear of a YA fantasy stand-alone.
4. A Court of Thorns and Roses by Sarah J. Maas
A young huntress needs to confront an ancient evil to save the Fae she's fallen in love with. I read the first book in Maas' Throne of Glass series last year and was completely captivated by the world she created. When I found out that she had another YA fantasy in the works, I was thrilled.
5. Fairest by Marissa Meyer
I just recently started reading Meyer's The Lunar Chronicles books, which blend fantasy and Sci-Fi elements, and I'm loving them! Fairest is the prequel and I can't wait to get this book. It's such an interesting world full of amazing characters and Marissa Meyer is a brilliant storyteller.
Megan Olivier, UK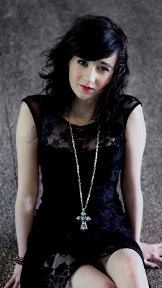 Megan is an eighteen year old who loves reading, mainly YA, and writing; she is currently editing her first YA contemporary novel. To visit Megan's channel, click here.
Last year I read almost exclusively contemporary novels. I think that will probably continue into this year, just because it's always been my favourite genre, but I have found myself branching out into fantasy and Sci-Fi lately – The Raven Boys by Maggie Stiefvater and the Saga graphic novel series by Brian K. Vaughan have converted me. I'm feeling adventurous right now!
My 5 most anticipated YA books of 2015 are:
1. I Was Here by Gayle Forman
It's a contemporary with a mystery twist: the story of a girl living in the aftermath of her best friend's suicide, trying to piece together the reasons that drove her over the edge. I LOVE Gayle Forman. Just One Day was one of my favourite books of last year. It was such an inspiring, positive read, and the chapters set in Paris made me want to travel the world!
2. The Wanderers by Kate Ormand
This one is about a shape-shifter circus, which sounds amazing! Plus, I was lucky enough to interview Kate for my BookTube channel; she's such a wonderful, lovely person.
3. Love Hurts by Malorie Blackman and other authors
Malorie Blackman is the author of my favourite book, Noughts & Crosses. Plus, this is a collection of forbidden love stories, which I always love.
4. The Heir by Kiera Cass
The Selection is a dystopian series about a reality TV show in which girls compete for the love of a Prince Max. These books are just so addictive! I can't help but look forward to this one (the fourth in the series), particularly because it switches The Selection around: now a girl gets to do the choosing!
5. Salt & Stone by Victoria Scott
This is the sequel to Fire & Flood: the story of a girl taking part in a deadly contest to win the cure that can save her dying brother. I really enjoyed the first book; it was very fast-paced and a lot of fun.
Dylan Books, Sydney, Australia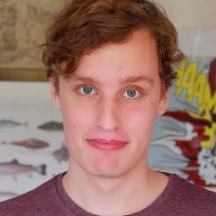 Dylan is a nineteen year old student who loves reading YA novels and making related videos on YouTube. He is also a fan of graphic design. To visit Dylan's channel, click here.
At the moment I'm loving stories with a strong coming-of-age focus, such as Life in Outer Space by Melissa Keil and Aristotle and Dante Discover the Secrets of the Universe by Benjamin Alire Sáenz. I've always loved YA and contemporary fiction, but recently I just can't get enough of this specific sub-genre!
My 5 most anticipated YA books of 2015 are:
1. Stand-Off by Andrew Smith
Stand Off is the second instalment in the Winger books, a series about a teenage boy who goes to boarding school. I read the first book last year, and fell in love with the characters. It is a must for lovers of YA contemporaries – but a fair warning, the ending will destroy you!
2. A Court of Thorns and Roses by Sarah J. Maas
Sarah J. Maas kind of exploded on BookTube with her previous YA fantasy series, Throne of Glass. As somebody who doesn't read much fantasy I've never read any of her books – but have heard amazing things. So when I heard she was coming out with a new series this year, I knew I had to pick it up!
3. Carry On by Rainbow Rowell
Another Rainbow Rowell book, the author of the contemporary bestsellers Eleanor and Park and Fangirl. This title is a spin off from Fangirl that branches out into fantasy. I mean, how can I not be excited for this one!
4. All the Bright Places by Jennifer Niven
As far as I can tell, this book looks right up my alley. It's a YA contemporary about a boy and a girl in high school. The girl can't wait until school is over so she can start living her life, the boy is counting down the days until he ends his own. If this book deals with issues of mental illness in a realistic and sensitive way, then I think it has potential to be a really powerful read.
5. The Copper Gauntlet by Holly Black and Cassandra Clare
Technically, I think this might be classified as a middle grade book. But as somebody who is fast approaching their 20s, let me reassure you that everyone can enjoy this series. It is the second book in the Magisterium series, which is about a boy going off to a school of magic. It was honestly the book I had the most fun reading in 2014, and I can't wait to see what the second instalment has in store!
So, the year is shaping up nicely. Happy 2015 reading to everybody.