The United States, the UK and France have completed "precision strikes" in Syria as a Western alliance retaliated to an alleged chemical weapons attack in the country that killed at least 60 people last week.
Prime Minister Theresa May said there was "no practicable alternative to the use of force" to deter the use of chemical weapons by the Syrian regime.
Reports suggested a scientific research centre and military bases in Damascus were struck in the attack, including elite units of the Syrian military.
Reports suggested at least six loud explosions were heard in Damascus in the early hours of Saturday and smoke was seen rising over the Syrian capital.
US officials were briefing that the strikes were aimed at multiple targets and involved Tomahawk cruise missiles.
The UK's Ministry of Defence said four Royal Air Force Tornados have contributed to strikes in Syria, launching Storm Shadow missiles at a former missile base 15 miles west of Homs in a "successful attack".
By 3.30am UK time, just over an hour after US President Donald Trump announced the strikes, US Defence Secretary James Mattis and General Joe Dunford told reporters at the Pentagon that the strikes were over and there had been no reports of any allied losses. They described the operation as a "one time shot".
Double the number of weapons were used in the strikes compared with similar attacks on Syria carried out by the US unilaterally last year, Mattis said.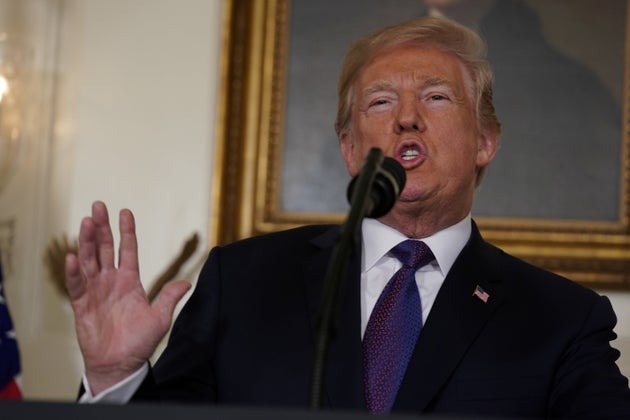 May is likely to face a backlash for taking the decision without the consent of MPs in Parliament.
Adding that "every possible diplomatic channel" had been sought before the decision to launch targeted strikes had been taken, May said on Saturday morning: "This persistent pattern of behaviour must be stopped – not just to protect innocent people in Syria from the horrific deaths and casualties caused by chemical weapons but also because we cannot allow the erosion of the international norm that prevents the use of these weapons.
"This is not about intervening in a civil war. It is not about regime change.
"It is about a limited and targeted strike that does not further escalate tensions in the region and that does everything possible to prevent civilian casualties."
May said the action would also send a "clear signal" to anyone else who believed they could use chemical weapons "with impunity".
She said: "This is the first time as Prime Minister that I have had to take the decision to commit our armed forces in combat – and it is not a decision I have taken lightly.
"I have done so because I judge this action to be in Britain's national interest.
"We cannot allow the use of chemical weapons to become normalised – within Syria, on the streets of the UK, or anywhere else in our world."
The MoD said the regime was "assessed to keep chemical weapon precursors stockpiled in breach of Syria's obligations under the Chemical Weapons Convention" at the site.
Defence Secretary Gavin Williamson said: "The reprehensible use of chemical weapons in Douma is further evidence of the Syrian regime's appalling cruelty against its own people.
"We will not stand by whilst innocent civilians, including women and children, are killed and made to suffer.
"The international community has responded decisively with legal and proportionate military force.
"Let these united actions send a clear message to the regime – the use of chemical weapons is categorically unacceptable and you will be held to account."
Trump said in a televised address from the White House: "A short time ago, I ordered the United States Armed Forces to launch precision strikes on targets associated with the chemical weapons capabilities of Syrian dictator Bashar al-Assad.
"These are not the actions of a man. They are crimes of a monster instead.
"The purpose of our actions tonight is to establish a strong deterrent against the production, spread and use of chemical weapons."
The US president had sharply critical words for both Russia and Iran, which have backed Assad's government.
"To Iran and to Russia, I ask, what kind of a nation wants to be associated with the mass murder of innocent men, women and children?" Trump said.
French President Emmanuel Macron said the attack would be limited to Syria's chemical weapons facilities.
"We cannot tolerate the recurring use of chemical weapons, which is an immediate danger for theSyrian people and our collective security," a statement from the Elysee presidential office said.
This is a breaking news story and will be updated. Check back for the fullest version.