Debut Contemporary, its artists and Barry Martin and Klara Taussig-Cecmanova as co-curators with Samir Ceric, the gallery's director, decided to join forces to raise funds and awareness for the Harrison's Fund Charity. Located in 82 Westbourne Grove, Notting Hill, London, the show will continue until the 31st of January.
20% of the money raised from sale of the exhibition pieces will go towards the charity, Harrison's Fund, which is named after eight year old Harrison Smith from Surrey who was diagnosed with Duchenne Muscular Dystrophy, a fatal genetic condition which affects the muscles, causing muscle weakness. The charity's goal is to get as much money as possible into the hands of the world's best researchers, who are working to find a cure for Duchenne. 30 Debut artists will continue developing a solid body of work outside of the upcoming exhibition and from every sold artwork, 20% will go to Harrison's Fund throughout 2015 and beyond.  Debut Contemporary has nominated Harrison's Fund as its chosen charity of the year for 2015 and Harrison's Fund's logo will be displayed on the gallery's front window on Westbourne Grove, Notting Hill for the whole year. Artist Klara Cecmanova's son, Theo (3) and Oskar (9 months) were both diagnosed with Duchenne Muscular Dystrophy, a fatal disease, back in August and have since been working with the charity very closely.
With 30 artists taking part in the show, including Sassan Behnam Bakhtiar, Lucy Namayanja and Hector Sandoval, it has become Debut Contemporary and Debut Artists mission to help Klara and the Harrison's Fund.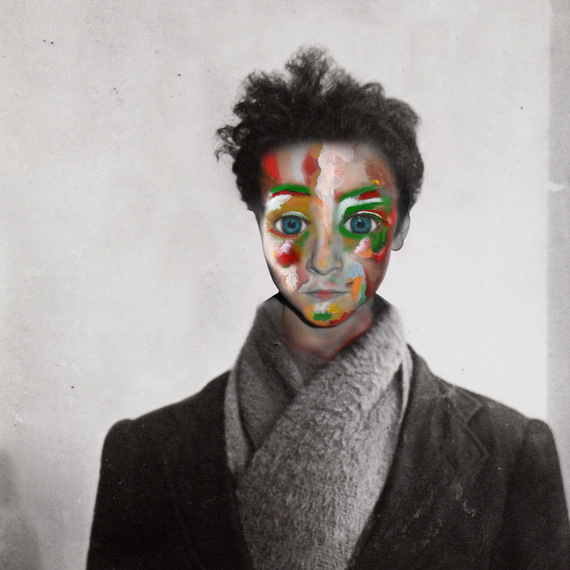 Son of Man by Mary Osinibi. Courtesy the artist and Debut Contemporary
Samir Ceric, founder and CEO of Debut Contemporary said:
" I have been working with Klara closely over the last year at the gallery and when she shared her news I was devastated. The artists I work with are like family to me, so I wanted to show her how much I care about her and her family on both professional and personal front by not only hosting this event but working with her, Nick, Alex and Harrison's Fund over  a longer period of time as well as 'mobilizing' the artistic community to help fight this illness so we jointly do our everything to find a cure. Art can be used as a powerful statement to demonstrate something that is life destroying and each of these artists have taken their own angle on the theme and produced an outstanding body of work which I am sure will have a global reach and end up being a touring exhibition entering major art establishments and museums all over the world. I encourage and invite artists from every corner of the world to create their own works by answering the exhibition theme of our curator and esteemed artist Barry Martin and submit their artworks for charity art auctions and group exhibitions or do their own initiatives locally, regionally or nationally no matter where they are. "Each artists has been asked to create as many pieces for the show and an ongoing fund raising activity so we are hopeful that over the coming year, when sold, each one should bring in a substantial donation for the charity."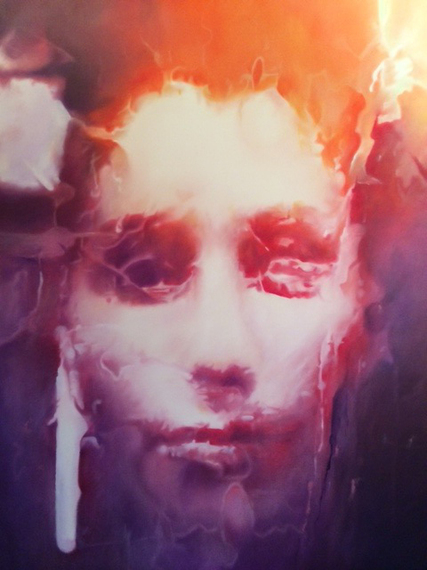 Love and pain are the same by Toby Brown. Courtesy the artist and Debut Contemporary.
Barry Martin, renowned artist and the curator of the exhibition, commented:
"The exhibition focuses on the young amongst us, who for many reasons don't make it into adulthood. It is a continuing tragedy that manifests itself at all levels of society in all parts of the world, and is without borders. Wars, diseases, afflictions, all take their toll of young and old, and in many cases can be avoided with preventive measures, good will amongst all men, and research into finding a cure for near fatal and fatal diseases. The passing over of the young and defenceless is particularly poignant, and doubly distressing, since we as adults feel that guilt, and question, could we have done more with the means at our disposal to have prevented this tragic, global and continuing state of affairs? This exhibition invites you to contribute works that focuses ours, and others' attention about this subject."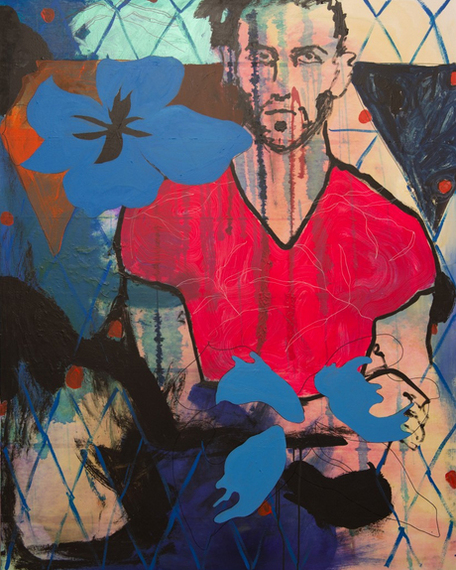 Birthday Celebration by Ireneo Frizzarin. Courtesy the artist and Debut Contemporary.
Alex Smith, Founder of the charity and dad of Harrison added:
"Since I met Nick and Klara I have been blown away by their commitment to the charity and helping us get that one step closer to finding a cure for Duchenne. This recent fundraiser with the gallery only serves to further demonstrate. I am very grateful to them for introducing me to Samir and for his ongoing commitment to the charity into 2015, I am sure it will be a worthwhile partnership."
Just £3 Per Month by Caroline Lowe. Courtesy the artist and Debut Contemporary